Things You'll Need
Plain paper

Computer

Word processing program

Printer

Scissors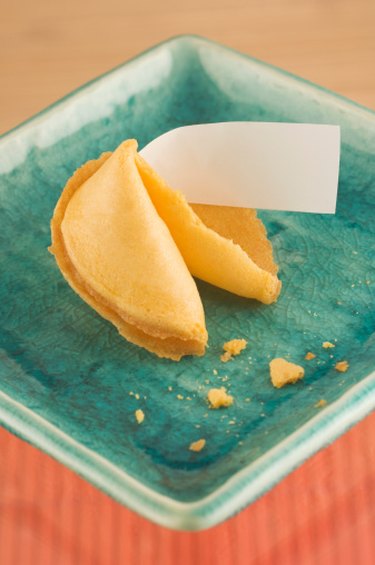 Part of the fun of dining at an Asian restaurant is the fortune cookie that comes at the end of the meal. Dinner guests often crack open their cookies and take turns reading their fortunes aloud. Fortune cookie messages typically contain words of wisdom or a prediction for the future. Whether you make fortune cookies at home or buy an empty, premade version, you can exercise your creativity by making your own messages to enclose in each cookie to entertain your family and friends.
Step 1
Determine the purpose of your message. Do you want to propose to that special girl, encourage a dear friend, get a laugh or impart words of wisdom? Let your objective dictate the message you compose.
Step 2
Read several fortune cookie messages to get a feel for the type of wording used. Duplicate this style to create an authentic-sounding cookie message.
Step 3
Open a blank document in the word processing program on your computer.
Step 4
Set your document margins to 2 inches to 3 inches in width and 1/2 inch in height to duplicate the average size of a fortune cookie message.
Step 5
Type your message into the available space using an 8-point or 10-point font. Adjust the font size to allow you to fit your entire message onto the space.
Step 6
Print your messages onto an 8 1/2-inch-by-11-inch sheet of paper.
Step 7
Cut your messages down to size, so they fit into the homemade or premade cookies.