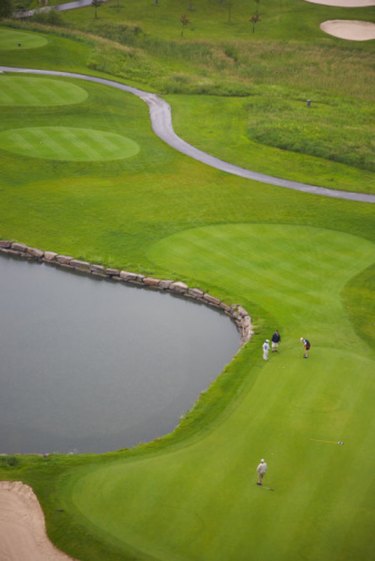 The Sunshine State is home to some lush lawns and golf courses. Several different types of grass are predominant in Florida, including Bahia, Bermuda, St. Augustine, Rye, Centipede, Carpet and Zoysia. Although some have similar characteristics, there are ways to tell them apart.
Step 1
Review characteristics. Each of the most common grass types in Florida have unique characteristics. Centipede, typically used in residential lawns, is known for being slow growing and having short stems that grow upward. Bahia has different varieties, but is known for thick leaves and a dark green color. You will see Bahia on athletic fields and along Florida highways, as well as in private lawns. Bermuda grass has more of a fine texture and is often found on Florida golf courses. St. Augustine is another type of grass often found in residential lawns. It has a thick, coarse texture and is dark green. Carpet grass is the type that grows where other grass types will not. Traits include a coarse blade. Rye has a distinguishable wintergreen shade and is commonly found on golf courses and athletic fields. Zoysia is used in Florida, but not that often. It can be found in some yards and is known for its fine texture.
Step 2
Compare photos. Some websites offer photos to help identify the type of grass in your yard. Go to Floridaturf.com or Lawngrass.com to compare photos of the different grass types. You can also do an Internet image search for the different types of grasses in Florida.
Step 3
Visit your extension agent. The University of Florida, Institute for Food and Agricultural Sciences, has offices in each Florida county. Contact your local extension agent and bring a sample of your grass to their office. Extension agents are trained to answer all kinds of questions and have access to horticultural experts who can provide further information on grass types.
Step 4
Challenge horticulture students. Many Florida high schools have Future Farmers of America chapters with teams specializing in horticulture. Visit your local high school agriculture teacher and ask if horticulture students might review a sample of your grass to help identify it.