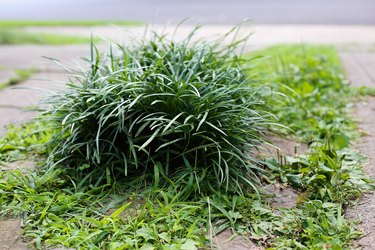 Grass is the default ground cover in most lawns, but it doesn't do well in shady spots. A good alternative is dwarf mondo grass (‌Ophiopogon japonicus‌ 'Nanus'), a short and attractive evergreen plant that forms neat clumps of dark green, grasslike leaves. Unlike turf grass, it grows best in areas with filtered sun, such as dappled shade from trees, or full shade. A mature plant is 4 in. tall and spreads 6 in. wide, and in summer, it bears bell-shaped white or pale lilac flowers, adding 2 in. to the plant's height. Dwarf mondo grass grows in USDA plant hardiness zones 6-11.
Where to Plant Dwarf Mondo Grass
Sandy, loam soil is best for dwarf mondo grass, but it tolerates a range of soil types and growing conditions. A high or low soil pH doesn't bother this plant, and it tolerates urban pollution. Though it grows best in moist and well-draining soil, it's drought-tolerant once established, but poorly drained soil and standing water can cause root rot. Dwarf mondo grass is salt-tolerant and grows well in a coastal garden. It will even tolerate full sun for part of the day, though it fares better with morning sun than afternoon sun.
Dwarf mondo grass (commonly called "monkey grass") can be used to create a border to define a space, lend interest to a rock garden or fill in a space where turf grass won't grow. To create that lush carpet of ground cover, space dwarf mondo grass so the center of one plant is 6 in. from the center of the next. You can also evenly space plants further apart and spread mulch between them for a formal effect. They have a naturally mounding growth habit and give a landscape visual interest whether used as a standalone element or as a complement to other ornamentals, like hostas or day lilies.
The plant's leaves will be darkest green in full shade and fade to light green when exposed to filtered sunlight. Either way, the green leaves, lilac or white flowers and blue berries of this evergreen perennial provide year-round visual interest in your landscape.
How to Plant & Grow Mondo Grass
There are several ways to start a mondo grass planting. One is to purchase established plants from a nursery, tip them out of their pots and separate the clump into individual rooted stems. Each sprig will turn into a full-looking clump of new plants over the first few years, though it's quicker if you leave sprigs grouped together in small clusters. Similarly, if a friend or neighbor has an established bed of mondo grass, you can often wheedle them into letting you take a few half clumps to get started.
Should you intend to plant dwarf mondo in mass to cover a large area of grass, a better option is to order bare-root sprigs in bulk from a nursery. Planting them one at a time with 6-in. spacing over a large area will still be a tedious and time-consuming chore, but it saves the extra time and effort of teasing apart an established clump.
Tip
Mondo grass is a part of the larger lily family like the very similar liriope ("lilyturf"), which means it won't stand up to foot traffic the way turf grass and most true grasses will. It makes up for that relative fragility through its easy care, visual appeal and slow growth (no mowing!).
Prepare soil in advance by amending it (if necessary) to improve drainage and add organic material in the form of clean, well-aged compost. Plant sprigs at their original depth and water them well. Then, keep the soil moist for the first several weeks until they're well established. A spacing of 6-8 in. is appropriate for most purposes (they'll fill in that space as they grow), or you may cluster several sprigs at that spacing with a larger distance between clusters.
Because mondo grass is slow-growing, you'll need to weed diligently until it's well established. Once it's well rooted, it can hold its own against competitors. As mondo grass spreads, it will crowd out most weeds.
Tip
The tiny Nippon and Gyoko-ryu cultivars are even smaller than dwarf mondo grass, and their small size may make them better suited than other mondo grass varieties in some specific settings. Alternatively, black mondo grass (‌Ophiopogon planiscapus‌ 'Nigrescens') is roughly the same size as regular dwarf mondo grass but has dramatically dark purple-black leaves rather than green.
Dwarf mondo grass needs careful watering during its first season but rarely needs fertilizer. Water newly planted dwarf mondo grass when the soil surface is dry to help establish a deep root system. Apply water until it begins to puddle on the soil surface. In following years, water established dwarf mondo grass when the soil is dry to a depth of 3 in.
Dwarf mondo grass doesn't need fertilizer if it's growing strongly and has lush deep green leaves. If the plant is growing poorly and has pale leaves with no other possible cause, it might be suffering from nutrient deficiency. Fertilize nutrient-deficient dwarf mondo grass with a 12-4-8, slow-release granular fertilizer. Sprinkle granules at a rate of 4 Tbsp. per 4 square feet around the plant base, avoiding leaves. Use a hose over the area to water in fertilizer and rinse any fertilizer off the leaves.
Dwarf mondo grass needs tidying only once a year in spring when the old year's leaves are spent and tired-looking from their winter dormancy. Remove faded foliage from the previous year to neaten the plant and make room for fresh new growth.
Tip
Sterilize pruning shear blades by wiping them with a cloth soaked in rubbing alcohol. Tidy dwarf mondo grass in early spring before new growth appears. Prune all stems to 1 in. tall and remove clippings from the area. Sterilize the pruning shears again when you've finished.
The low-maintenance character of mondo grass extends to pests as well. Snails and slugs will cheerfully feed on it if given the opportunity, while anthracnose (a fungus) is the only disease that commonly poses a threat. Snails and slugs can be hand-picked, and a number of common fungicides will protect against anthracnose.
Propagation of Dwarf Mondo Grass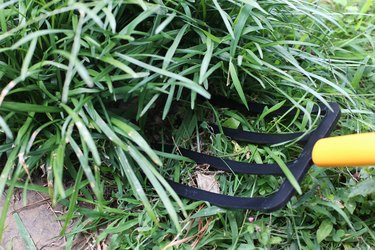 One remaining piece of routine maintenance consists of periodically dividing mature growths of dwarf mondo grass. This helps maintain healthy growth and provides the opportunity to extend existing plantings. You can divide for the first time when the plant is two to three years old and well established. Divide again at the same interval.
Dig it up and divide existing mounds into sections in early spring before new growth appears. Dig up dwarf mondo grass with a garden fork and pull the root ball into two or three sections with equal amounts of top growth. You can cut the root ball with a knife sterilized with rubbing alcohol if necessary. Plant each section at its original growing depth and space sections 6 in. apart. Water each newly planted section until water begins to puddle. Dwarf mondo grass lives about 10 years in good growing conditions.
With a bit of patience and attention to detail, you'll soon have the lawn of your dreams.