Things You'll Need
Shallow roasting pan

Glaze (optional)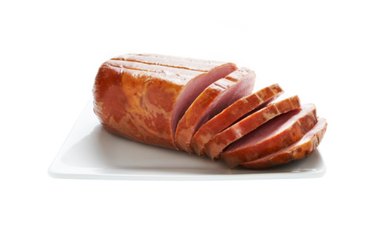 A boneless, sliced ham makes a tasty and convenient holiday meal. Serve an 8-lb. ham along with your favorite accompaniments, such as mashed or sweet potatoes, corn and other fresh vegetables. Half hams usually serve between 12 to 16 people. Consider the meat's weight when determining how long to cook it, as the baking time is dependent on the ham's size. Spiral-sliced hams are typically fully cooked, so you'll simply need to reheat it to a safe internal temperature before serving.
Step 1
Preheat your oven to 325 degrees F. Remove all packaging materials from the boneless, sliced ham.
Step 2
Place the ham flat-side down in a shallow roasting pan. Cover the ham with aluminum foil to prevent the outside from burning.
Step 3
Bake the ham for approximately 2 hours, or 15 minutes per pound. Make sure the ham's internal temperature registers 160 degrees F when checked with an instant-read food thermometer.
Step 4
Glaze the ham halfway through the cooking process if desired. Keep the foil off of the ham after applying the glaze.