Things You'll Need
Good-quality card stock

Printer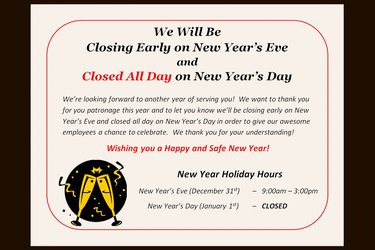 We all need holidays, but closing your business to celebrate one may lose you customers. It's vital, therefore, that you give them sufficient notice of your holiday plans. The signs you put up will reflect your attitude toward your customers. To ensure your customers feel valued and will continue to patronize your business, put some thought into your holiday notice, wording it carefully and printing it on good-quality paper.
Step 1
Write down all the important information your sign needs to impart to your customers: dates (and times, if relevant) you'll be closed, when you'll reopen and the reason for the closing.
Step 2
Compose your notice on a computer using a template such as those offered by Microsoft Word.
Step 3
Add an appropriate holiday message to your customers, thanking them for their understanding about your business's closure. This will let them know you appreciate them, even if the holiday isn't one they celebrate.
Step 4
Print out the message onto your card stock.
Step 5
Place the sign somewhere it can be easily seen by your customers. Use one that can be seen from the outside of your front door and one that can be seen from the inside.