Things You'll Need
Pliatex mold rubber

Vinegar

Water

Mold (optional)

Two buckets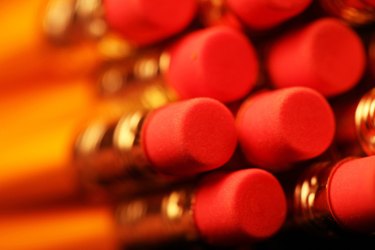 Imagine never spending money on another eraser, or creating erasers that you can sell for profit. Making rubber erasers is a fun and easy project for the entire family. Erasers can be made in a variety of shapes and styles for your children to take to school or to be sold at craft shows. Erasers are easy and cheap to purchase, but traveling to the store every time you need a new eraser can get tiresome. This fun project is perfect for an afternoon with the family on a rainy day.
Step 1
Mix the mold rubber with water in a 50-50 ratio in one container. Put the same amount of vinegar as water in the second container. You can buy mold rubber at an art supply or craft store.
Step 2
Pour the rubber mold and water mixture into the vinegar while stirring constantly.
Step 3
Shape the mold rubber into any shape by hand or pour it into a mold.
Step 4
Remove the mold rubber from the mold and dunk it in water. This step will remove the air bubbles from your eraser. Once all the air bubbles are gone, remove the eraser from the water and allow it to dry.
Warning
Always supervise children when using chemicals. Do not let children or pets eat any of these materials.