Things You'll Need
5-inch 2-by-4-inch wood block

Hand saw

Protective eyewear

Gloves

10-by-10-inch felt cloth

Scissors

Staple gun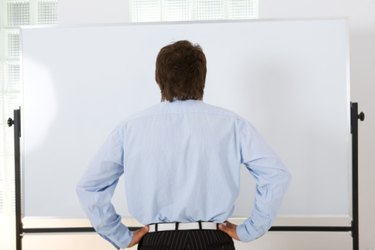 Whiteboards are smooth surfaces used by teachers and others who need to show presentation. These hanging boards act as a replacement for traditional chalkboards in classrooms as teaching aids. Another name for this surface is a dry-erase board as the markers used are able to be wiped down without using water. If you need to replace a lost or broken whiteboard eraser, all you need are several items.
Step 1
Cut a piece of 2-by-4-inch wood so it measures five inches long. You may be able to have this piece of wood cut for you at major home improvement stores. If not, use a hand saw; however, make sure you wear protective eyewear and gloves.
Step 2
Cut a piece of felt cloth with a pair of scissors so it measures 10 inches wide and 10 inches long.
Step 3
Place the piece of wood in the middle of the felt cloth and fold the right side of the cloth over to the left side of the wood as if you were closing a book.
Step 4
Staple the fabric to the top of the wood block by using a staple gun. Place one staple on the far left, middle and far right side of the wood block; however, the staples are only placed on the top surface of the wood, not on its sides. This secures the fabric to the top of the block.
Step 5
Cut away excess fabric so only two inches of fabric are left. At this point, the right side of the wood block has fabric tightly around it while the left and upper and lower sides have loose fabric around it.
Step 6
Gather the excess fabric on the left, upper and lower sides of the block so they all meet at the top of the wood block. Staple this fabric to the top of the block, which is the same side as the previous staples.
Step 7
Secure any loose fabric around the eraser, and check the bottom of the eraser to ensure the fabric is smooth. You are now ready to erase on a whiteboard.
Tip
If you do not wish to use wood, you may use an old necklace jewelry box or any other sturdy box-shaped item.
You may use fabric glue to secure the felt fabric if you do not have a staple gun.
Warning
Do not use nails to secure the fabric as they may protrude out of the bottom of the eraser.