Things You'll Need
6-lb. beef chuck cross rib roast

1/2 tsp. dried thyme leaves

Pepper

Seasoning salt

3 cloves sliced garlic

1 cup dry red wine

Roasting pan

Carving knife

Small saucepan

Serving platter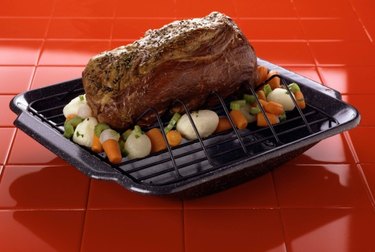 Beef has been a staple in American cooking for generations. When slow-roasted, a beef chuck cross rib roast can be flavorful, tender and nutritious. According to Explorebeef.org, "Beef has eight times more vitamin B12, six times more zinc and two and a half times more iron than a skinless chicken breast." Beef chuck cross rib roast can be served year-round and pairs wells with a variety of side dishes. It can be prepared in about an hour, making it an easy-to-cook, healthy meal.
Step 1
Preheat the oven to 500 degrees Fahrenheit. Cut seven to eight small slits in the exterior of the beef chuck cross rib roast using a sharp knife. Insert garlic slices into the slits.
Step 2
Set the roast in a large roasting pan and place in the center rack of the oven. Bake for 20 minutes. Remove roast from oven and set aside. Lower the oven temperature to 400 degrees Fahrenheit.
Step 3
Sprinkle your roast with seasoning salt, pepper and thyme. Return the beef chuck cross rib roast to the oven and continue roasting for an additional 35 to 40 minutes.
Step 4
Take the roasting pan out of the oven and, because the internal temperature of the meat will continue to rise, allow roast to sit for 20 minutes. Insert a meat thermometer into the thickest part of the roast before carving. The temperature should read 130 degrees Fahrenheit for a rare roast and 140 degrees Fahrenheit for medium rare. According to the United States Department of Agriculture Food Safety and Inspection Service, "The only way to know food has been cooked to a safe internal temperature is to use a food thermometer." If you want it more well-done, you can always put the roast back in the oven, for an extra 10 minutes.
Step 5
Transfer the beef chuck cross rib roast to a carving board. Slice the roast, using a sharp carving knife, into uniform 1/8-inch slices. Place the roast slices on a preheated serving platter and set aside. Pour the drippings from the roasting pan into a small saucepan. Add wine and simmer over medium heat for 5 minutes. Transfer sauce to a bowl and serve immediately with your roast.
Tip
Purchase USDA beef from a high-quality supplier. Keep roast frozen of refrigerated until ready to use.