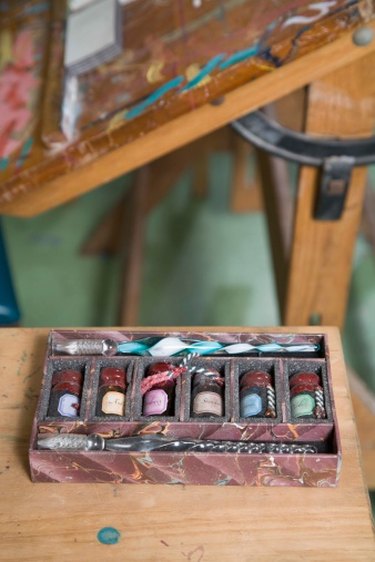 Acrylic Inks are a fun and versatile way to add color to a completed art project, or they can be used alone to create a painting. Because of their high pigment quality, they are perfect for use as highlights on acrylic, watercolor, pastel or other mix-media art projects. Their color is typically rich, dark and intense and when dry they remain waterproof, just like acrylic paints. They have a thin, watery consistency much like watercolor mediums after water has been added. This modern ink is also pigment based and designed to work with pen tips and airbrush nozzles.
Step 1
Determine how you would like to use acrylic inks in your project. Due to the thin consistency of acrylic inks, they are versatile enough to be used with ruling pens, technical pens, airbrushes, bristle brushes and other painting tools.
Step 2
Prepare your painting surface. Acrylic inks work well on paper and canvas pads designed for watercolor paints. You can also use the inks on top of art projects created with acrylic paint. You cannot use them over oil paint, however. If you will be using watercolor paper, you may want to wet and stretch your paper first, to avoid paper buckling while you paint.
Step 3
Mix your colors. Unlike typical paint medium, these inks don't work very well mixed on the painting surface. In addition to the fact that they are watery in consistency, the acrylic polymers in the paint tend to make it stick fast to paper and dry quickly. This makes mixing directly onto paper very difficult.
Step 4
Paint the background of your painting surface first, when using acrylic inks as a paint medium. If you want to capture the luminosity of watercolor paint with water-thinned layers, let each layer dry in between coats. Beware when using these inks, however: While they may be acrylic-based, they will run, when they come into contact with water, much like watercolors. Once they are dry, they are insoluble like acrylic paints.
Step 5
Get creative and use tools other than a brush to add inks to your painting projects. For thin outlines, dip a ruling pen into the ink color and add it to your painted surface. Small plastic tubes with thin round metal tips can be used to distribute a thicker, but more even, line of ink onto a canvas. Add textile medium to acrylic inks to paint directly onto fabric clothing or home textiles, like dish towels or pillowcases.
Step 6
Add color and accent with acrylic inks, after a layer of watercolor or acrylic paint has already dried underneath. Just be careful when adding additional paint over the top of these previous layers. This can be an advantage or disadvantage, depending upon the effect you would like to achieve.
Warning
Don't confuse acrylic inks with alcohol inks. Alcohol inks are different in nature and the techniques for using them are not the same.