Things You'll Need
Ground nutmeg

Ground cinnamon

Ground cloves

Ground ginger

Allspice

Bowl

Airtight container or jar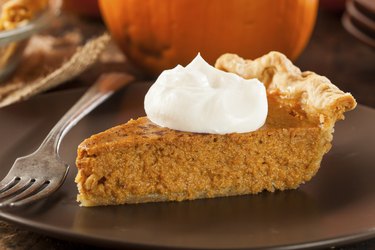 Pumpkin spice brings with it a warm and comforting feeling, bringing to mind the holidays in fall and winter. Whether using it to flavor a pie or for roasting whole pumpkin, the spice you use should be a combination of sweet and savory notes, blending well with the natural, earthy taste of the pumpkin. Creating your own is simple and you'll notice the fresher flavor in all your dishes.
Step 1
Combine 9 parts cinnamon to 2 parts ginger and 2 parts nutmeg in a bowl. Add 1 1/2 parts each of ground cloves and allspice.
Step 2
Mix the spices together thoroughly until fully incorporated.
Step 3
Use your pumpkin spice just as you would any store-bought brand. Store the pumpkin spice mix in an airtight container. Fill the container three-fourths of the way full or less to avoid spilling the spice.
Tip
Add a personal twist to your spice mix by including ground instant coffee, cocoa powder or brown sugar to the mix. Use a spice grinder if you're using whole cloves, cinnamon or nutmeg. Measure out the ground fresh spices in the same ratios.
Warning
Be gentle when blending your spices. The spices used in the mix can be painful if inhaled. Wash your hands before touching your face and eyes after making the spice blend. Cinnamon, nutmeg and ginger can irritate eyes. If the spice gets in your eyes, rinse with cold water.