Things You'll Need
Balloon (Small)

Tape

Serving tray

Cardstock paper

Scissors

Frosting

Cake decorating kit with icing

Knife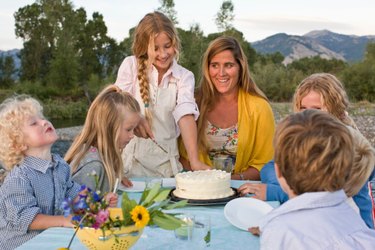 An exploding birthday cake is a fun gag gift idea for a friend or family member. The exploding cake is not edible and does not have real cake in it. A real cake is set aside for enjoyment in eating after the exploding cake pops. Avoid giving an exploding cake to someone who will not appreciate the humor or who might have hurt feelings.
Step 1
Blow up the balloon. Fill it completely with air and then put a piece of double-sided tape or take a piece of tape and loop it around so there is a sticky side on both sides. Put the tape against the balloon and then put the balloon on the tray. The tape holds it in place.
Step 2
Cut the cardstock paper to about two inches wide and long enough to loop around the balloon. The cardstock helps keep the balloon in place while creating a shape of a cake. Cut small notches into the bottom of the cardstock about a quarter of of an inch. Fold the notches so they are flat on the tray. Tape the cardstock to the balloon and then tape the notches to the tray.
Step 3
Cover the balloon and cardstock with any preferred frosting. The frosting makes it look like a cake.
Step 4
Decorate with a cake decorating kit, creating any preferred design. Make sure all of the cardstock and balloon is covered with frosting or that the decorative icing hides it.
Step 5
Allow the birthday boy or girl to try cutting the cake. When they puncture the cake with the knife, it will explode.