Things You'll Need
Olive oil

Creamy dairy salad dressing base, such as sour cream and mayonnaise

Plastic storage container with an airtight lid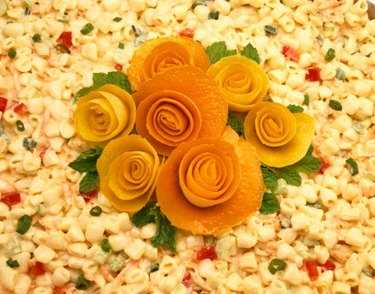 Macaroni salad is a picnic and casual dinner staple, typically made with elbow-shaped noodles, but you can substitute the classic pasta salad with farfelle, fusilli or penne. Macaroni salads can also contain a variety of savory ingredients, such as fresh peas, tomatoes or bell peppers, hardboiled eggs or pickles. Traditional pasta salads are known for their rich, dairy-based sauces and creamy consistencies. Keep your macaroni salad moist and flavorful by adding the right ingredients and storing it properly.
Step 1
Cook the macaroni noodles until they are "al dente," drain them in a colander and rinse with cool water to remove any excess starch. Pour the noodles into a mixing bowl and toss them with a little olive oil, which will keep the pasta from sticking and prevent them from soaking up the rich dressing.
Step 2
Create a rich pasta salad dressing using a creamy dairy base, such as sour cream and mayonnaise. For example, use enough base, such as 1/2 mayonnaise and 3 tbsp. of sour cream per two cups of pasta, to thoroughly coat the noodles. Add more mayonnaise or sour cream to adjust the salad and amount of dressing to your liking.
Step 3
Store the macaroni salad properly to keep it from drying out. Transfer the salad to a plastic container featuring an airtight lid prior to storing it in your refrigerator.
Tip
When preparing to serve the macaroni salad, if it appears too dry, extra dressing can be added.