Things You'll Need
Lightweight fabric

Ruler

Fabric pencil with disappearing ink

Sewing needle, size 9

Coordinating thread

Scissors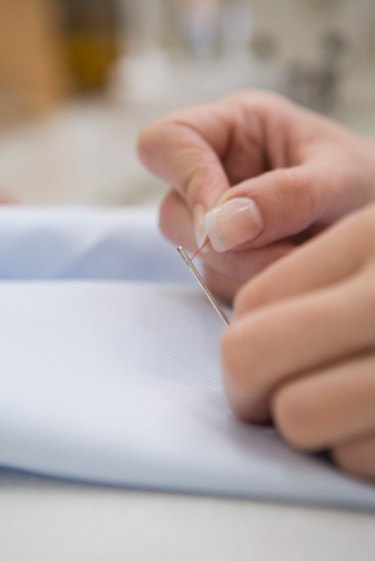 Shirring is a sewing technique that involves rows of gathering as a decorative accent to clothing. Shirring may be done on a dress or skirt to emphasize the waist and will add an element of elegance to a long-sleeve blouse at the wrist. A shirred throw pillow can add a luxurious touch to a living room or bedroom. Although the shirring technique can be done quickly with a sewing machine, a fine hand stitch will also accomplish the desired results.
Step 1
With the fabric pencil, draw a series of four long lines lengthwise on the fabric located two inches apart, where the shirring will be located, using the ruler.
Step 2
Thread the needle with 24 inches of thread and knot one end.
Step 3
Sew small, even stitches that are approximately 1/2 inch in length along the fabric pencil line with the needle and thread.
Step 4
Pull the thread to half the stitched row length to create the gathered shirring. Knot the thread firmly at the end of the shirring row.
Step 5
Repeat the stitching and gathering on every fabric pencil row.