Things You'll Need
Shovel

Tape measure

Wheelbarrow

Landscape cloth

Scissors

Gravel

Heavy rake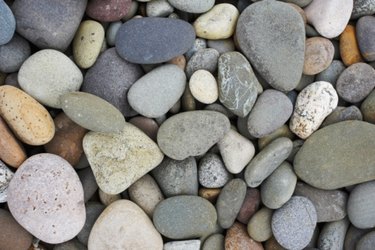 If you have an area on your lawn that gets excessively worn, such as a path around the house, or a path to your garden, why not replace the grass with gravel? You'll have a sturdy, durable surface that will hold up to traffic and add some landscaping pizazz to your yard at the same time. Replacing grass with gravel isn't technically difficult -- you'll just need some time and some basic materials.
Step 1
Dig out the area you want to fill with gravel, using a shovel. Remove 3 inches of dirt and place the dirt into a wheelbarrow as you proceed for easy disposal.
Step 2
Lay landscape cloth on the bottom of the excavated area. Cut pieces to fit with scissors if necessary. If you must use multiple pieces, overlap the pieces by several inches. The landscape cloth inhibits weed growth, so cover the bottom completely.
Step 3
Fill in your area with gravel. Allow for 1 cubic foot of gravel for very 3 square feet of ground to be covered.
Step 4
Rake the gravel smooth with a heavy rake.