Things You'll Need
Dry cleaning solvent

Sponge

Water

Toothbrush

White vinegar

Rubbing alcohol

Pre-wash stain remover

Laundry detergent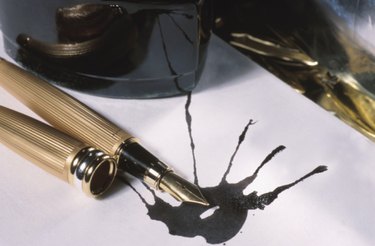 Corduroy is cotton fabric that is made with a type of vertical ribs. These ribs help make the fabric more durable and more fashionable. However, if you get a stain on your corduroy fabric, such as an ink stain, it might be a little more difficult to get the ink out from between the vertical ribs. Using some simple cleaning methods and a little patience can save your corduroy.
Step 1
Apply a dry-cleaning solvent to a sponge and use it to blot the ink on your corduroy. This helps remove some of the ink.
Step 2
Run cool water in your sink and place your corduroy underneath it. Continue rinsing for several minutes to remove more ink. Allow the fabric to dry.
Step 3
Saturate an old toothbrush in white vinegar. Gently, separate the ribs of the corduroy with the bristles and scrub the remaining stain.
Step 4
Rinse the corduroy fabric again with cool water. Scrub the stain using rubbing alcohol and the toothbrush if you can still see ink.
Step 5
Rinse and apply a pre-wash stain remover. Wait about 10 minutes and wash with regular laundry detergent. Hang to dry.