Things You'll Need
60 newborn or size one diapers

Rubber bands

String

Bottles

Baby care essentials such as shampoos or lotions

Decorative ribbon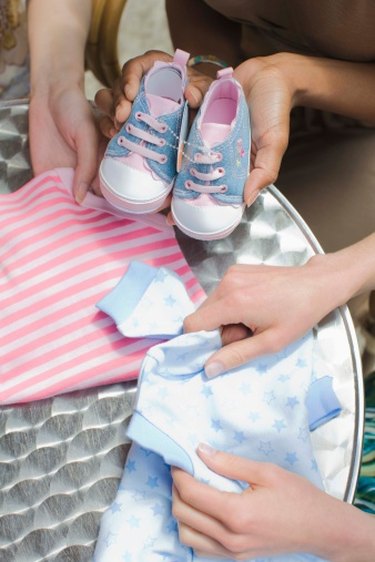 The birth of a baby is an exciting occasion, filled with celebration and joy. A popular element for baby showers and gifts to the expectant mother, diaper cakes serve as adorable centerpieces and functional gifts once the party has ended. Made with some commonly used baby items, and decorated with toys and other baby essentials, diaper cakes can be made in nearly any theme imaginable. Choosing a theme for a baby boy's diaper cake will help you as you create the cake.
Step 1
Choose your theme for a boy's diaper cake. Blue is a favored color for boy's baby showers and green and yellow accompany blue nicely. Choose a theme that compliments the shower theme or the theme of the baby's nursery. Popular themes for boys include transportation vehicles, sports themes, monkeys or jungle animals, the baby's initials, puppies, teddy bears, frogs and ducks.
Step 2
Roll the diapers for the cake. Open a diaper and roll it from front to back as tightly as possible. Secure the roll with a rubber band. Clear rubber bands work best for this but are not necessary. Continue rolling all the diapers and securing them the same way.
Step 3
Build the first layer of the diaper cake. Using a bottle or other rounded container, such as one for baby shampoo or lotion, secure one layer of diapers around the bottle with a rubber band. Continue building this layer until it is the desired size, using larger rubber bands or string if necessary.
Step 4
Build the second layer of the cake. Using one of the rolled diapers, secure a layer of diapers around it with a rubber band and build it to the desired size securing the final layer with a rubber band or string. Repeat this step for all subsequent layers of the cake.
Step 5
Decorate the diaper cake with a boy theme. Using decorative ribbon, tie the ribbon around the outside of the diaper cake, hiding the rubber bands for each layer. Tie more decorative ribbon into bows and decorate the cake with a topper, toys, rattles, baby essentials, wash clothes, clothing and other embellishments.