Things You'll Need
1/2 cup butter

1-2/3 cups confectioners' sugar

Sifter

Bowl

Electric mixer

3 tbsp. water, juice, cream or milk

1 tsp. vanilla extract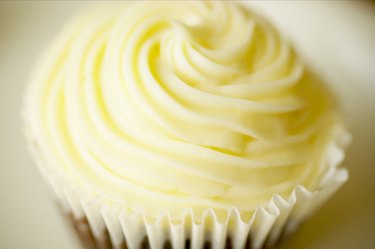 Top that cake made from a mix with homemade icing. It has a richer taste and texture than canned frosting, and a basic vanilla icing has only four ingredients. While it takes a little patience and some elbow grease if you don't have an electric mixer, your effort will be worth it. The resulting icing will keep in the refrigerator for a few days if placed in an airtight container. Use the icing on the top and sides of the cakes and as a filling between layers.
Step 1
Take the butter out of the refrigerator to soften. Let it come to room temperature -- about 70 degrees F. If the butter is melted or ice cold, your icing won't have the proper consistency.
Step 2
Sift the confectioners' sugar to remove any lumps.
Step 3
Add the sugar to the butter gradually and beat on low speed until the mixture is creamy and the sugar and butter are completely blended. It will probably take no more than 2 or 3 minutes.
Step 4
Add the liquid -- water, juice, milk or cream -- to the butter mixture 1 tbsp. at a time, beating after each addition.
Step 5
Pour in the vanilla extract and beat again. If the frosting is too thick, add additional liquid and beat again. If it's too thin, beat in more confectioners' sugar.
Tip
Substitute cocoa powder for 1/4 cup of the confectioners' sugar for a deep chocolate icing.
Start with vanilla frosting as a base and add fruits, fruit juice, crushed candy bars, nuts, coconut or chocolate chips to vary the flavors. Use flavor extracts for even more taste options.
Warning
The sugar may clump together if there's moisture in the air. Sifting will separate out clumps.