Things You'll Need
6 cloves of finely chopped garlic

4 tablespoons olive oil

2 cans tomato puree, 28 ounces each

2 cans tomato paste, 6 ounces each

2 cups water

1 teaspoon dried oregano

1 teaspoon dried basil

1 tablespoon sugar

32 ounces ricotta cheese

32 ounces shredded mozzarella cheese

1 cup chopped flat-leaf parsley

2 eggs

1 cup grated Parmesan cheese

2 pounds no-boil lasagna noodles

4-quart saucepan

2 baking pans, 13 inches by 9 inches

Medium-sized bowl

Aluminum foil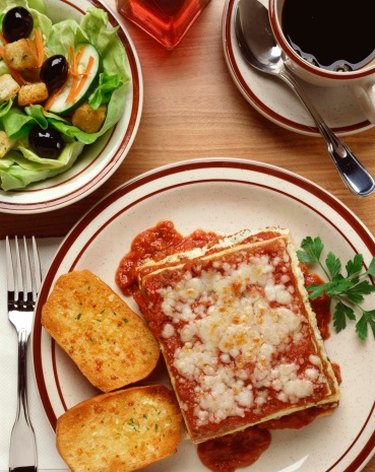 With ingredients like cheese, pasta and tomatoes, lasagna has gained a reputation as a crowd-pleasing casserole. It's also a suitable dish for social gatherings where a large turnout is expected, such as potluck suppers, wedding and baby showers and birthday parties. Lasagna does not take long to make and can be prepared ahead of time in two baking trays to feed 25.
Step 1
Heat oven to 350 degrees Fahrenheit. Pour olive oil into saucepan and heat. Add chopped garlic and cook until softened, taking care not to brown the garlic. Mix in the tomato paste. Stir in tomato puree and water. Season with basil, oregano and sugar. Bring sauce to a boil, then reduce the heat. Simmer over medium for 30 minutes until sauce thickens and reduces slightly.
Step 2
Mix the ricotta cheese, eggs, parsley and half of the Parmesan cheese together in a medium bowl and set aside.
Step 3
Remove sauce from burner. Spread 1 cup sauce at the bottom of each ungreased baking pan. Lay three pieces of the no-boil lasagna noodles crosswise over the layer of sauce for each pan. Smooth 2/3 cup of ricotta mixture over the noodles. Top the ricotta with sauce and sprinkle with 1/2 cup of shredded mozzarella for each pan. Repeat this layering process two more times for each baking pan. Finish with a top layer of noodles. Spread a layer of sauce over the noodles and add the remaining Parmesan and mozzarella cheeses.
Step 4
Cover the pans with aluminum foil and bake for 30 minutes.
Step 5
Remove the foil from the pans and bake an extra 10 minutes. Take the pans out of the oven and have the lasagnas sit at room temperature for 10 minutes before serving.
Tip
If making ahead of time, do not add the final topping of Parmesan and mozzarella cheeses until you are ready to reheat prior to serving. Let the baking dishes sit at room temperature at least 15 minutes, then add the cheese toppings and reheat at 350 degrees Fahrenheit for half an hour. Lasagna lends itself to a number of variations. If you like meat, brown 2 pounds of ground beef and drain the fat before adding to your sauce. For a healthier alternative, try adding your favorite vegetables and use low-fat cheeses and egg substitute. For extra zest, add 1/2 teaspoon of red pepper flakes to your sauce. Romano cheese may also be used in place of Parmesan for a sharper flavor.