Grilling salmon is just as easy as grilling any other meat, and it only takes about 15 minutes to prepare. While you can cook skin-on salmon straight on the grill, placing the fillets in a foil packet is just as simple and makes for a no-mess, no-fuss grilling experience. If you're barbecuing a great deal of other items, grilling salmon in a foil packet can be a useful way to conserve grill space for foods that require higher heat. Simply place the packet on the shelf of the grill or near the high heat foods and cook directly over the burners. This easy recipe can be adapted to your own personal taste by incorporating your favorite spices and herbs, and will be a crowd pleaser at your next BBQ.
Things You'll Need
¾-pound salmon fillets (2)


2 tablespoons olive oil

1 tablespoon Italian seasoning

Sea salt and black pepper

1 large lemon, sliced
Tip
In addition to Italian seasoning, you can use any of your favorite spice blends or seasoning to flavor the fish. You can also omit the lemon altogether.
Step 1: Gather Your Ingredients
Remove the salmon from its packaging, and gather a large sheet of foil along with your olive oil, Italian seasoning, salt, pepper, and lemon. Slice the lemon into thin rounds. Preheat the grill to medium-low heat and brush the grill with a wire brush to remove any food particles left over from the last time you grilled.
Tip
You can use any type of salmon for this recipe, although fattier salmon such as King Salmon tends to turn out more moist and tender. You can select fillets that either have the skin on or the skin removed.
Step 2: Prepare the Salmon for Grilling
Place the salmon fillets on the large sheet of foil and drizzle with olive oil. Use your hands to gently rub the oil over the whole surface of the salmon flesh. Sprinkle with Italian seasoning and your desired amount of sea salt and black pepper. Place a few lemon slices over each fillet.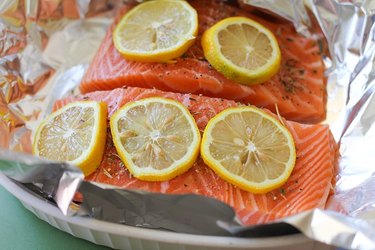 Tip
Both fillets can go into the same foil packet — just leave a little room between each fillet to ensure the fillets cook evenly. You can also create individual foil packets for each fillet.
Step 3: Grill the Salmon
Fold in the sides of the foil, creating a packet. Place foil packet on the preheated grill and cover. Cook for 10 to 15 minutes, giving the packet a half turn half-way through cooking. The salmon is ready when it flakes easily with a fork.
Tip
Cooking time will vary depending upon the thickness of the salmon. Fillets that are 1-inch thick will take about 10 to 12 minutes to cook, whereas thicker fillets will require 12 to 15 minutes.
Step 4: Serve!
Use tongs to remove the foil packet from the grill and place it on a plate. Allow the packet to cool slightly then carefully open the foil. Using a spatula, remove the salmon fillets from the packet and serve alongside your favorite side dishes.