Things You'll Need
Plastic container

Salt

Pepper

Rosemary

Spoon measurement

Butter

Sauté pan

Meat thermometer

Unsalted butter

Blue cheese

Port

Mixing bowl

Spoon

Baking sheet

Wax paper

Sharp knife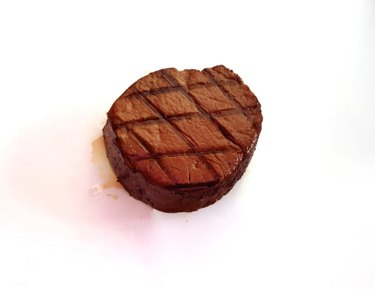 The filet mignon cut, which comes from the spine area of cattle, offers a juicy and tender cut of meat for steak lovers. Grilled, broiled or roasted, this cut of meat provides a maximum of flavor with a minimal amount of fat content. A fresh filet mignon has the best taste, but it is possible to cook this cut of meat frozen or thawed. Dab a small amount of blue cheese butter on top of your cooked filet to mask any unwanted flavor.
Cook the Filet
Step 1
Defrost the filet. Place a wrapped frozen filet mignon in a plastic container and store in the fridge for 3 to 4 hours until completely thawed.
Step 2
Season the meat. Sprinkle salt, pepper and rosemary on each side of the steak.
Step 3
Melt 2 tbsp. of butter in a saute pan over low heat. Turn the heat up high and then add the filet.
Step 4
Place the steak in the pan and sear meat. Cook until it reaches an internal temperature of 120 degrees; 120 to 125 will make your filet rare, 140 to 150 medium, and 160 and beyond will make it well. Flip the meat over with a spatula to brown all sides of the meat.
Prepare the Butter
Step 1
Warm 1 stick or 1/2 cup of unsalted butter to room temperature.
Step 2
Mix together 1 cup of blue cheese, 1/2 cup of butter and 2 tbsp. of port together with a spoon in a mixing bowl. Mash the ingredients against the sides of the bowl to thoroughly blend.
Step 3
Line a baking sheet with wax paper. Shape the butter mixture into small balls and place on the sheet. Refrigerate until hardened for several hours. Place a portion of butter on each cooked filet mignon before serving.
Tip
The butter in the pan will smoke due to the high heat. Turn on a stove fan or open a window to disperse smoke.
Cut the filet 3/4 of the way through with a sharp knife to butterfly before cooking it. This will allow the meat to cook faster.
Warning
Use caution when working with heat.