Things You'll Need
Stuffed jalapenos

Cookie sheet

Freezer containers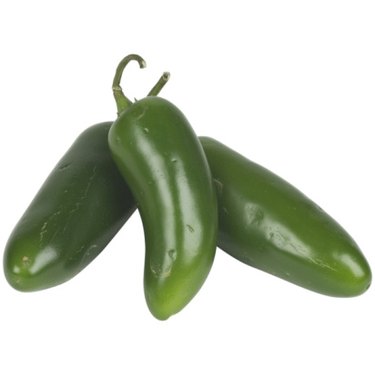 Jalapeno poppers are a spicy, tasty appetizer or snack. Jalapeno poppers can be made in large batches and frozen for up to four months. Making a large quantity of jalapeno poppers is easy. Having them on hand for a quick snack on game day or appetizer to go along with your favorite meal is ideal. Freezing jalapeno poppers is simple, just remember to store them in a single layer to prevent the breadcrumb coating from cracking and falling away from the pepper.
Step 1
Seed, blanch and stuff the jalapenos. Dip them in flour and then breadcrumbs, and let dry on a wire rack.
Step 2
Place the stuffed and breaded jalapenos on a cookie sheet and place the cookie sheet in the freezer. Freeze the jalapenos until they are hard to the touch. The freezing process can take up to 2 hours.
Step 3
Place the jalapenos in a single layer in freezer containers. Keeping the jalapenos in a single layer will prevent the breading from cracking and separating from the jalapeno. Jalapenos can be stored in the freezer for up to 4 months or longer if the container is air tight.
Step 4
Remove the jalapenos from the freezer when ready to eat, place them on a cookie sheet and into a preheated oven at 350 degree Fahrenheit. Bake for approximately 22 minutes or until golden brown and heated all the way through.
Warning
Cheese stuffing will be hot after cooking. Wait 3 to 4 minutes before eating to avoid possible burns to the mouth.