Things You'll Need
Tarp

Jeans

Cardboard

Scissors

Tape

Stencils

Newspaper

Spray fabric paint

Gloves (optional)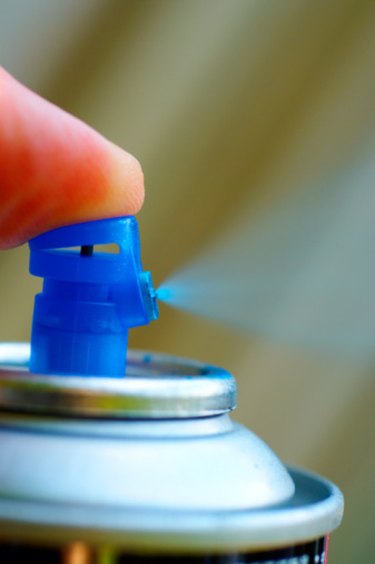 Spray painting jeans can revive an old pair of jeans or transform a new pair into something that is more your style. Spray fabric paint comes in a variety of colors and finishes, including glitter and glow in the dark. Use spray fabric paints because they are designed to dry faster and with a better finish than traditional spray paint. Additionally, the fabric spray paint will not crack as easily.
Step 1
Place the tarp in a well-ventilated area. You do not want to spray paint indoors because of the paint fumes.
Step 2
Place the jeans on top of the tarp.
Step 3
Cut out strips of cardboard to fit inside of the pant legs. This will keep the paint from seeping through to the other side of the jeans. You only need to place the cardboard where you will be painting.
Step 4
Tape the stencil to the jeans. Make sure you do not leave any gaps in the tape for the spray paint to run under.
Step 5
Tape newspaper over the areas around the stencil to prevent paint from getting on areas you do not want painted.
Step 6
Spray paint the stencils following the manufacturer's directions. Use even strokes as you paint.
Step 7
Remove all of the newspaper and the stencil. Be very careful not to smear any paint.
Step 8
Allow the paint to dry before flipping the jeans over and painting the other side.