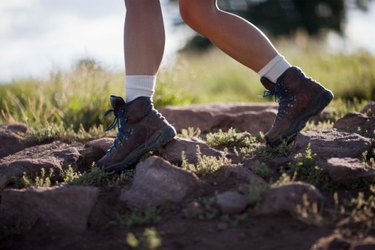 As one of the world's most successful shoe brands, Skechers started out in 1992 in a California beach house. This footwear brand is now sold around the world in over 120 countries and territories. Though the company started with women's shoes, it now makes boots, sandals, sneakers and more for all ages. Like all footwear, Skechers can get quite stinky after being worn for a while.
You can wash some kinds of Skechers depending on the materials from which they are made. Check the product detail page on the Skechers website to read the cleaning instructions.
If the shoes are machine washable, place each one separately inside a laundry bag or pillowcase. Wash on the gentle cycle and then air dry. Skechers Memory Foam shoes need at least 12 hours to dry completely. Never put these shoes in the dryer. Doing so will ruin them as well as your machine.
Skechers Foamies products should not be machine washed. Hand wash these with cold water and let them dry inside or in a shaded area. Direct sun can ruin them. Skechers Water Proofer Spray can be used on some shoes but read the label before using it.
Cleaning Skechers Performance Shoes
Skechers performance shoes should never be put in a washing machine. Instead, use a clean towel or soft brush to remove any dirt from the top and outsole. Then, add a few drops of laundry detergent to a container of clean, warm water. Rinse off the towel or brush, dip it into the container and clean off the shoe. Wipe it off with clean water and let the shoe air dry.
If your Skechers are made from nubuck or suede, clean them with a suede cleaning product as directed. These shoes should not get wet. You can use a suede brush to keep them looking their best. For Skechers leather shoes, use a leather cleaning product or Skechers Athletic Cleanser. It is also a good idea to use a waterproofing spray and leather oil on these shoes.
Removing Odors From Shoes
Stinky shoes offend noses, and they can also be a sign of bacteria that can lead to foot infections. The odor is actually what bacteria smells like, and the sooner it is eliminated, the better. If you cannot put the shoes in the washing machine (or if they still stink afterward), there are many different deodorizing sprays, pads and powders on the market, including Skechers Odor Eliminator Spray.
For a more natural alternative, try sprinkling some baking soda into the shoes. Let it sit overnight and shake it out the next day. Tea bags are also good for removing smells and are an effective bacteria killer. You need to put them in boiling water first, though. Let them steep for a few minutes, cool them for five minutes, place them in your shoes and let them rest for an hour. Remove any excess liquid and let the insoles dry completely.
White vinegar is another natural deodorizer that kills bacteria. Mix equal portions of it with water in a spray bottle and spritz it in the shoes. All you have to do now is let them dry before wearing them again. If you don't have enough time for your shoes to dry, leave a bar of soap or a bag of cloves inside them for a few hours. This is a good idea if you are traveling since no one likes to open a stinky suitcase.