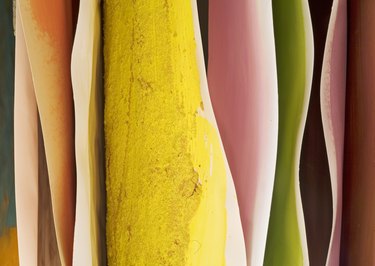 Gluing sand to paper may sound simple enough, but it can prove a bit tricky unless you first experiment with several techniques. If you use too much glue, raised glue blobs add an extra dimension to your sand project, whether you intended it or not; too little glue and the sand doesn't adhere properly. Experiment with small projects first to get a grip on the ideal amount of glue for the job and the best way to apply it.
Sand-Gluing Supplies
Select a paper sturdy enough to withstand the moisture from the glue -- copy paper, construction paper or cardstock work well; tissue paper and some napkins may fall apart from the moisture. Plain brown craft paper or paper cut from sturdy paper bags may also be used. Regular clear-drying school glue or glue sticks hold the sand to the paper. A foam brush and inexpensive artist's brushes help thin the glue onto the paper. As for sand, select pre-colored craft sand or clean sand sold at home improvement stores for sandboxes. Do not use sand from a beach, as it most likely contains bacteria, germs or even insects. Keep disposable cups or containers on hand for the sand. Cover the project area with a plastic tablecloth or newspaper to help keep the sand from getting all over it. A pencil comes in handy to sketch out your idea beforehand if you're creating a specific sand-art design. Plastic spoons or folded index cards help distribute the sand exactly where you want it.
Sand-Gluing Basics
Place your project paper atop the newspaper or table cloth; then pour some sand into a disposable container. Create simple, thin designs such as words by squirting glue directly out of the bottle into the desired forms -- write out the design in glue. Sprinkle sand over the wet glue using a spoon or a folded index card, using the card as a chute for the sand. Continue sprinkling until you can't see the glue beneath the sand; then shake the excess sand off onto the newspaper or into a plastic tub so you can funnel it back into the sand container. Writing or squirting glue out of the bottle results in raised designs that turn into hard bumps when the sand and glue dry. Create smooth, flat sand art by using a foam brush or artist's brush to spread the glue. For a large area, pour glue into a disposable bowl; then dip the foam brush into the glue, or squirt glue onto the paper and spread it around. A glue stick may be used in place of school glue, but it may not hold as much sand. An artist's brush allows you to create narrow, detailed glue areas without raised edges. Sprinkle sand over your brushed glue area; then shake off the excess into a container. Allow the entire project to dry for an hour or two before displaying it.
Colorful Art
Create colorful art, such as designs reminiscent of Navajo sand painting, using several different colors of sand. Purchase pre-colored sand or make your own colors by pouring plain sand into several different containers, mixing in one color of powdered tempera paint into each. Start with a little paint, stirring in more as needed for richer color. Sketch your design on scrap paper or lightly sketch it on the project paper, writing the color designated for each area so you remember later. Apply glue to one region on the paper at a time, pour on the appropriate sand color; then shake the excess back into its container. Once you're happy with the look of one color region, continue with another color in an adjacent area. To create finely detailed areas that stand out from the rest, apply the glue and sand in those sections last; this way, the details are atop the background shades, much like fine details added atop a painted picture.
Textural Effects
Add texture such as raised dots, stripes or words by adding more glue and sand or glitter after the basic project dries. For instance, create a sky scene with the sun and sun rays poking out from behind behind clouds by using a foam brush or artist's brush to apply the glue to each colored section before adding the sand. Create the entire "flat" image; then, once it dries, add raised details such as the outline of sun rays using glue straight out of the glue bottle's nozzle. Sprinkle brightly colored sand or even fine glass glitter over the raised glue ridges for a special effect. Add more glue atop portions of the clouds to create the appearance of dimension and shadow, sprinkling a slightly different shade of sand -- or glitter -- atop the wet glue so the new cloud portions stand out from the rest.