Things You'll Need
Screwdriver

Replacement wood screws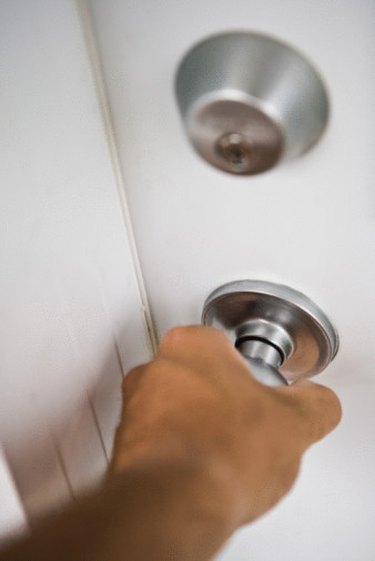 Baldwin is a major manufacturer of household door hardware. They carry a full line of knobs, dead bolts and handleset locks for entry doors, as well as passage knobs and locks for interior doors. A properly installed lock should stay in place for years without need of tightening, but doors exert a lot of force on all of their components and screws can work themselves loose over time. In order to restore your Baldwin locks and knobs to proper working order, you will need to know how to locate the mounting screws and tighten them.
Step 1
Locate the bolt collar plates for both the knob or handleset striker and the dead bolt on the edge of the door. Look for a wedge shaped bolt directly in line with the knob to start. Find the two screws holding the collar in place in the edge of the door. Tighten them with a screwdriver. Replace screws that will not tighten with a slightly longer or thicker screw.
Step 2
Move up the edge of the door to find the deadbolt collar and repeat the process of tightening the screws and replacing stripped screws with slightly longer or thicker screws.
Step 3
Locate the knob or the thumb button on the inside of the door. Look for the two mounting screws, one on either side of the knob spindle, or thumb button. Tighten these screws with a screwdriver. Do not over-tighten. Locate the inside plate surrounding the key hole, or thumb latch for the deadbolt, it is located directly above the knob. Tighten the two screws in the face of the plate with a screwdriver.
Tip
For added security inspect the door jamb, opposite the knob edge of the door and check the screws in the knob and deadbolt striker plates. Remove the screws one at a time. Replace screws that are shorter than 2 inches with 3 inch treated deck screws. Install the longer screws with a cordless drill. There will be two screws in each plate.