Things You'll Need
Hot water

Sponge

5 percent vinegar

Spray bottle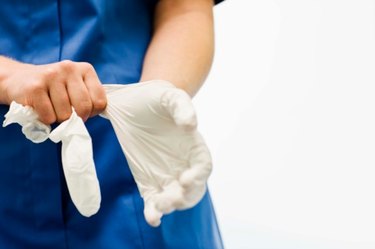 Killing germs in colder temperatures is slightly different than killing germs in average or warm temperatures. At cold temperatures, germs slow down and eventually stop moving. At extremely cold temperatures, they can freeze onto the surfaces they are on. Before you can kill the germs, you have to warm the surface they may be frozen on so they can be removed and killed. A 5 percent vinegar solution works better than most household cleaners and kills 99 percent of bacteria and germs. It is also safer to breathe in than most chemical cleaners.
Step 1
Soak a sponge in hot water and wipe down the infected surface.
Step 2
Put vinegar in a spray bottle and spray the vinegar until you cover the surface.
Step 3
Let the vinegar sit for an hour.
Step 4
Wipe down the surface with a moist sponge and let the surface dry.
Tip
Repeat Step 1 until the surface is no longer frozen or difficult to clean.