Things You'll Need
½ cup corn syrup

¼ cup water

½ cup firmly-packed brown sugar

½ cup granulated sugar

1/8 tsp. salt

1/8 cup butter (or margarine)

1 tsp. vanilla extract

1 ¼ cup raw, shelled peanuts

1 tsp. baking soda

Candy thermometer

13- by 9-inch baking sheet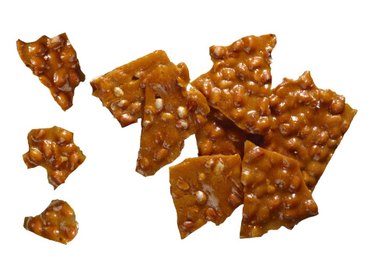 Peanut brittle is a confectionery treat made of a hard candy filled with peanuts and broken into pieces to serve. While the confection is sometimes made into a hard candy treat, with a few simple ingredients the candy can be transformed into a light and airy treat to enjoy at a party or as an after-dinner snack. Bake the treat just before a special event or make it well in advance and store in the freezer in an airtight container.
Step 1
Combine the corn syrup, water, brown sugar, granulated sugar and salt in a medium-size saucepan. Place the saucepan over medium heat and stir occasionally until all the sugar has dissolved and the mixture begins to boil.
Step 2
Add the butter or margarine and vanilla to the saucepan, stir for 10 to 15 seconds and then allow the mixture to cook undisturbed. Place a candy thermometer into the mixture and wait until the temperature reaches 230 degrees Fahrenheit.
Step 3
Keep the thermometer in the mixture and stir until the temperature reaches 290 degrees Fahrenheit. Stir in the peanuts.
Step 4
Stir the mixture until the candy thermometer reaches a temperature of 300 degrees Fahrenheit. Continue to stir for an additional minute.
Step 5
Add the baking soda to the mixture and stir gently until the baking soda is thoroughly mixed into the peanut brittle. Stop stirring. Too much stirring will cause the peanut brittle to go flat and loose its airiness.
Step 6
Grease the 13- by 9-inch cookie sheet with butter and pour the peanut brittle onto the sheet. Smooth out the peanut brittle until it is approximately ½-inch thick. Cool the peanut brittle at room temperature and then tap the pan roughly to break the peanut brittle.