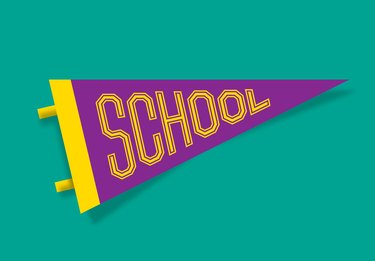 Pennants, which are a type of flag in the shape of a horizontally elongated triangle, can be an intriguing and attractive element of any room's decor. Sports pennants are among the most popular versions of these flags, but there's a huge range of vintage, nautical and contemporary pennants available to suit all styles.
Pennants are typically designed for horizontal display, meaning two out of three sides are not to be hung straight. This can be puzzling when you want to hang them as wall art. However, you can also opt to hang pennants vertically or at an angle, which expands your options for hanging techniques. When you're figuring out the best way to hang a pennant, let their unusual shape inspire your creativity.
The Easiest Ways to Hang Pennants
The most straightforward approach to hanging pennants is to attach them directly to a wall using your choice of hardware or adhesive product. Sports pennants with a logo or team name and other pennants with lettering are often intended to be hung horizontally so that they are easily readable. You might also hang them at a slight angle for visual interest.
Start by having a friend or family member hold the pennant up to the wall while you stand at a distance and determine the best spot. Then, have the person make pencil marks on the wall at the corners. Alternatively, use painter's tape to temporarily hang the pennant in position, adjust it until you're satisfied with the placement and then make the pencil marks.
You can hang pennants on the wall with small nails, such as framing nails, thumb tacks or poster tacks, placing one in each of the pennant's three corners. These can potentially make for a good-looking part of the display, but a major drawback is leaving holes in the pennant itself as well as the wall. Nondamaging (to the wall or pennant) and nonpermanent alternatives include adhesive poster strips, adhesive hook-and-loop tapes and adhesive putty. Pennants are usually lightweight enough for successful results with these types of products. Clean the wall with rubbing alcohol and let it dry before using any of these options and follow the manufacturer's instructions for best results.
Hanging Pennants Vertically
While pennants are generally designed to be viewed horizontally as if they were hanging from a flagpole, there is no reason not to hang them vertically if you like the way it looks. Doing so increases the range of options for hanging styles. Many pennants come with ties along the short edge for tying to a pole, and you can use these in a similar way for vertical hanging. Tie them onto wall-mounted hooks, which might be adhesive or screw-in hooks, or perhaps a coat rack or towel rail. This method can create a good-looking display if you have several pennants to hang together.
Similarly, you could hang a collection of pennants vertically by hanging them from a mounted string or length of twill tape using clothespins or brass binder clips. Arrange other decorative items, such as photographs, postcards and lightweight memorabilia, between the pennants. This type of display works well in a teen's room or other casual setting, and the items can easily be changed whenever the mood strikes.
Framing sports pennants or other types of pennants is a great way to turn them into a sophisticated piece of wall art. It's also a sensible option for preserving especially valuable or delicate antique pennants. Use a professional framing service or take a DIY approach and seek out a frame of an appropriate size. You could go for a double-glass floating frame or attach the pennant to a backing of parchment paper, cardstock or thin poster board with spray adhesive or double-sided tape. Hang the framed pennant as you would any other framed picture.
Similar to framing a pennant, consider mounting it on a wood panel, which you can buy in an appropriate size or cut and finish yourself. Attach the pennant to the board using small upholstery nails, brass thumbtacks or glue. You can also use adhesive putty or poster strips. Attach hanging hardware to the back of the wood panel and hang it on the wall with a hook or nail.