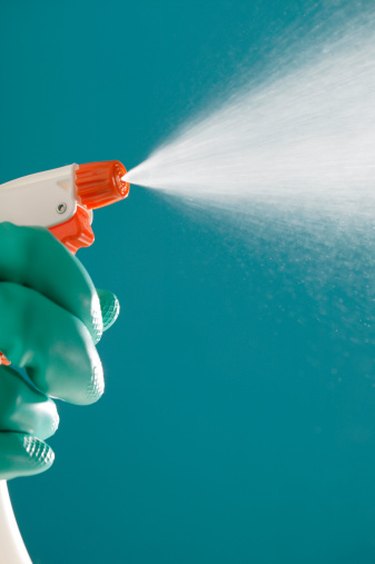 Bleach is often the go-to product when it comes to disinfecting around the house. Whether you want to disinfect your toilet and bathroom, clean your cutting boards or scrub your bathtub, chlorine bleach will clean and sanitize the surfaces. Bleach is a harsh cleaning product, however, so some people may be looking for a more eco-friendly way to disinfect. All you need are two products to safely disinfect just about any surface in your home.
Step 1
Fill a bucket with ½ gallon hot water. Add ¼ cup borax powder. You can find borax in the laundry aisle of most grocery stores.
Step 2
Mix up the borax and water until the powder dissolves. Use this solution to disinfect floors, countertops, toilets, bathtubs, baseboards, walls and most other surfaces in the home where you would otherwise use chlorine bleach.
Step 3
Spray the mixture onto the surface and wipe it up with a clean rag.
Tip
Alternatively, fill an empty spray bottle with undiluted 5 percent white vinegar, or a mixture of 2 cups hot water, ¼ cup vinegar and 2 tbsp. borax powder. Keep the bottle handy and use it to disinfect cutting boards, sinks, countertops and most other hard household surfaces.
Warning
Always test the product you are using on an inconspicuous spot first to check for any color changes or damage.
Although borax is less toxic than bleach, it must still be kept out of reach of children and pets.