Things You'll Need
Plastic wrap

Cellophane bags

Ribbon

Brown parchment paper

Large bow and ribon

Gift tag
Few things are better than receiving a homemade baked item from a friend or family member who makes it best. If you're the banana bread master of the family, everyone will appreciate your delicious banana bread as a holiday gift. You may know how to whip up several loaves of banana bread, but presenting them to someone as a gift is a different story. Rather than just wrapping the bread in foil or plastic wrap, use decorative material to place the banana bread in for a festive presentation.
Cellophane
Step 1
Wrap each loaf of bread tightly with plastic wrap. The open ends of the plastic wrap should meet underneath the loaf so that the top has a smooth, clean look to it.
Step 2
Place the banana bread into large colorful cellophane bags.
Step 3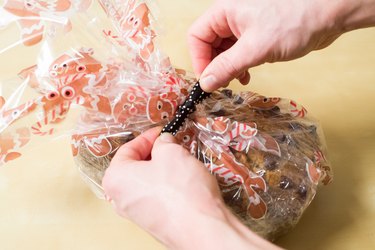 Tie a decorative ribbon around the cellophane to close securely. Attach a gift tag as well.
Parchment Paper
Step 1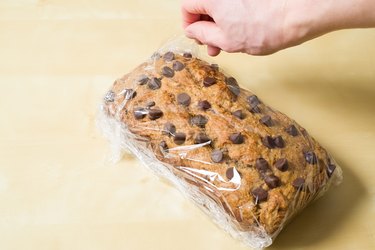 Wrap the banana bread in plastic wrap as explained in the previous section.
Step 2
Wrap brown parchment paper around the bread, taping it at the bottom.
Step 3
Tie a ribbon with a large decorative bow around the parchment paper.
Tip
You can decorate the parchment paper or write the recipient's name on the paper in decorative lettering using a black permanent marker.