Pan-searing scallops is a much simpler process than you might think — especially if you consider that the cook time for this recipe is only around five minutes. Perfectly golden on the outside and tender on the inside, the scallops' mild flavor complements a savory butter wine sauce that's mixed with fresh parsley and green onions. All in all, this straightforward dish still makes an impressive meal to serve at your next dinner party. Plate the scallops alongside buttery mashed potatoes, or keep it simple with a light salad. Either way, you'll have a memorable dinner in no time at all!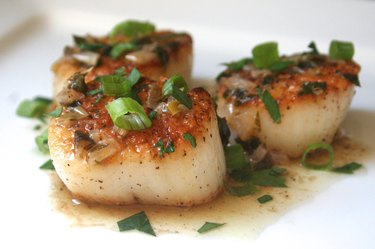 Things You'll Need
5–6 large scallops

2 teaspoons olive oil

2 teaspoons, plus 4 tablespoons unsalted butter

3/4 cup chardonnay

2 1/2 tablespoons shallots, minced

2 tablespoons fresh parsley, finely chopped

2 tablespoons green onions, sliced

Salt and pepper
Step 1: Rinse Scallops and Sear
Rinse scallops under cold water, and then gently pat them dry with paper towels. Warm a large skillet over medium-high heat for 1 to 2 minutes, and then add the olive oil and 2 teaspoons of butter. Once the butter is melted, season both sides of the scallops with salt and pepper. Then, gently place the scallops in the skillet using tongs, leaving room between each scallop. Sear the scallops for approximately 2 minutes on each side, until they're almost firm to the touch. Do not move scallops around while cooking.
Tip
The scallops should have a 1/4-inch golden crust on each side, while still being translucent in the center.
Step 2: Remove Scallops From the Pan
Remove the skillet from the heat, and then transfer the seared scallops to a plate. Place in a warm area until you're ready to serve.
Step 3: Deglaze the Pan
Return the skillet to the stove and place over medium-high heat. Pour 3/4 cup of chardonnay into the skillet to deglaze the pan. Bring the wine to a boil and cook for 2 to 3 minutes until the liquid reduces by about half, and then use a wooden spoon to scrape down the brown bits. Now, reduce the heat to medium, and add the shallots. Cook for an additional 1 to 2 minutes.
Step 4: Add Butter and Herbs to Sauce
Reduce the heat to low, and then add 4 tablespoons of butter to the pan and whisk until it's melted. Stir in the fresh parsley and green onion, and then add salt and pepper to taste.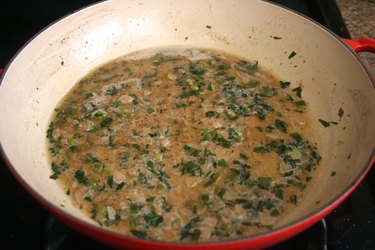 Step 5: Serve the Scallops
Plate the desired amount of scallops, and then drizzle the browned butter wine sauce on top. Garnish with chopped parsley and diced green onion. Time to dig in!