Things You'll Need
Black card stock

Scissors

Stapler

Paper plate

Black acrylic paint

Hot glue gun

Hot glue stick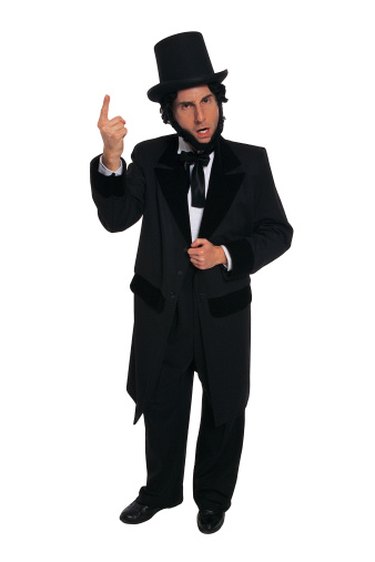 If you are gong to dress up as Abraham Lincoln for Halloween, a costume party or a class play, you don't have to spend a lot of money on a store-bought Abe Lincoln costume. Instead, you can make you own using basic materials that can be purchased inexpensively at a craft supply store. For example, you can make an Abe Lincoln top hat out of card stock and a paper plate.
Step 1
Cut a piece of black card stock to measure 24 inches wide by 18 inches long. You can find black card stock at any art supply store.
Step 2
Wrap the card stock rectangle width-wise into a cylinder that is 18 inches high and 12 inches in diameter. Staple the seam to secure the cylinder in place.
Step 3
Paint the top and bottom of a large 18-inch paper plate with black acrylic paint and allow the paint to dry for 20 minutes. Cut out the middle of the plate with scissors.
Step 4
Push a hot glue stick into a hot glue gun and plug the gun into an outlet to heat up for 10 minutes.
Step 5
Squeeze a line of hot glue around the circumference of one end of the cylinder, and press the glued end onto the paper plate. Line up the holes so that the cylinder is exactly placed over the hole in the plate. Hold the cylinder in place for 2 minutes until the hot glue hardens.