Things You'll Need
6 tbsp. crushed garlic

10 fresh sage leaves

5 tsp. fresh thyme leaves

5 tsp. olive oil

3 tsp. salt

2 tsp. ground black pepper

Food processor

Plastic wrap

Roasting pan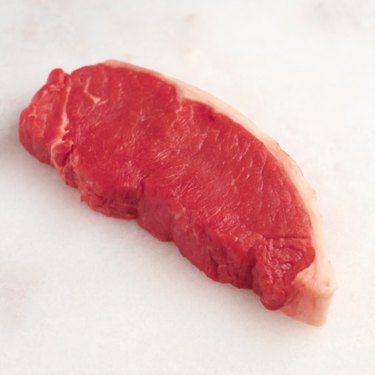 Strip loin, or strip steak, is a tender cut of beef, taken from an area directly behind the ribs of a cow. Strip loin steak works well served alongside salad, potatoes or creamy soup. In most grocers, strip loin is one of the pricier cuts of meat. Take care to prepare the meat correctly to get the most for your money. Allow for approximately six and a half hours of prep, marinating and roasting time before serving the meat.
Step 1
Combine 6 tbsp. crushed garlic, 10 fresh sage leaves, 5 tsp. fresh thyme leaves, 5 tsp olive oil, 3 tsp. salt and 2 tsp. ground black pepper in a food processor. Pulse the food processor until the ingredients form a thick paste.
Step 2
Coat the strip loin in the paste, cover with a sheet of plastic wrap and refrigerate for five hours. Preheat an oven to 450 degrees Fahrenheit.
Step 3
Unwrap the strip loin and place it into a roasting pan. Place the roasting pan, uncovered, into the oven. Bake for 15 minutes.
Step 4
Reduce the oven's heat to 350 degrees Fahrenheit and bake for an additional 10 minutes per pound of meat.
Step 5
Remove the pan from the oven and let the strip loin rest for 20 minutes before slicing thinly and serving.
Tip
Strip loin leftovers are great for sandwiches; place the slices on toasted bread alongside tomatoes and lettuce.