Elastic waistbands can make wearing pants, skirts and just about anything that cinches around your middle more comfortable. Adding an elastic waistband to garments requires enough fabric to form the casing that holds the elastic in place. This measurement is calculated by adding half an inch to the width of the elastic for fold-over casings, and adding three-quarters of an inch to the width of the elastic for sew-behind casings. Elastic comes in a number of widths and colors. Choose the size and shade to fit your desired waistband.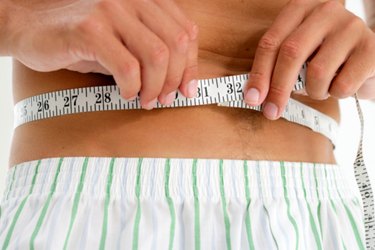 Things You'll Need
Straight Pins

Sewing Machine (Optional)

Elastic

Needle

Fabric

Measuring Tape

2 Large Safety Pins

Iron (Optional)

Thread

Ironing Board (Optional)
Step 1
Spread and baste the seam allowances in the casing area to the garment fabric. Stitch them so they lay flat. Press them with a hot iron, if desired.
Step 2
Turn down or add on the casing fabric to the desired waistline of the garment. Edge-stitch the upper edge near the fold, if the fabric is turned down. Turn under one-quarter inch of the raw edge(s) and stitch the casing in place. Leave a 2-inch opening in the lower casing to insert the elastic.
Step 3
Cut your elastic to a comfortable waist measurement, plus half an inch. Attach one large safety pin to each end of the elastic.
Step 4
Pin one of the safety pin-tipped elastic ends to the garment near the casing opening, and insert the other end into the casing. Feed the elastic through the casing by bunching the fabric and pushing the closed safety pin around the inside of the waistband with your hands. Once the elastic has been fed through and is laying flat, remove the safety pins, overlap the elastic ends by half an inch and stitch them together.
Step 5
Stitch closed the opening in the lower casing where you inserted the elastic.
Step 6
Try on the garment and even out the gathered fabric around the waistband. When it is comfortable, pin the elastic at the seams with straight pins and remove the garment. Stitch across the casing at the seam lines to hold the elastic in place and prevent it from rolling. Remove the straight pins after stitching.
Tip
Pressing seam allowances before and after basting will help them lay flat and make the insertion of the elastic easier.
After cutting your waistband elastic, stretch it around your hips to be sure that it offers sufficient expansion for pulling on your garment.
Warning
Always use the proper fabric setting when ironing. An iron that is too hot can burn or melt your fabric.
Don't make your waistband too tight. Waistbands that are too tight will not fit over your hips when pulling on garments.