Baked chicken is a high protein, filling and inexpensive focus of a lunch or dinner dish. Marinating chicken prior to baking will tenderize the meat and infuse it with rich flavor. A milk marinade will create a creamy taste and make the chicken juicier. Baked chicken marinated in milk requires less than 10 minutes of prep time and 30 minutes of baking time to make. The basic recipe makes enough for four chicken breasts.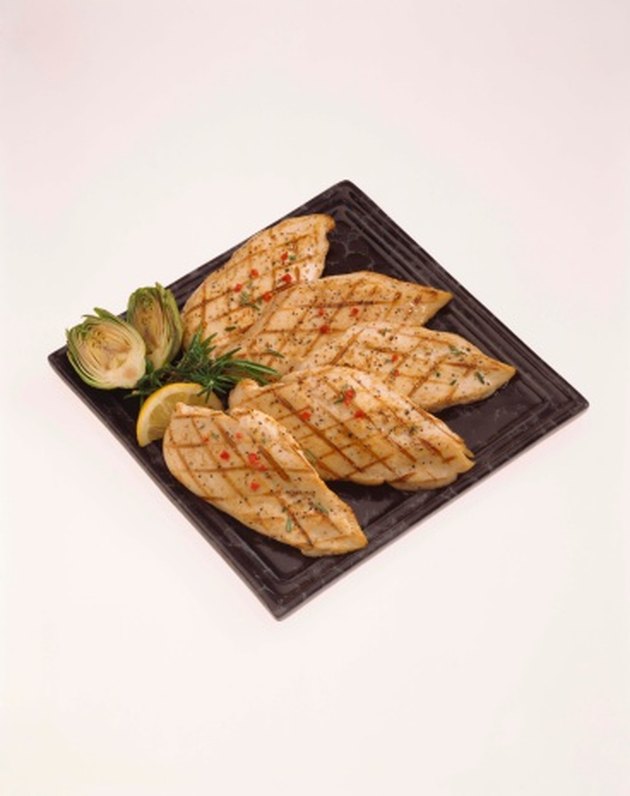 Things You'll Need
4 cups milk

1 tbsp. salt

2 tbsp. lemon juice

1 tbsp. coriander

1 tsp. crushed red pepper

1 tbsp. garlic powder

Shallow bowl

4 thawed boneless chicken breasts

Plastic wrap

Baking pan

Aluminum foil
Step 1
Combine the milk, salt, lemon juice, coriander, crushed red pepper and garlic powder in a shallow bowl. Whisk to combine the ingredients of the marinade.
Step 2
Place the chicken breasts in the marinade and cover with plastic wrap. Refrigerate for 12 hours.
Step 3
Preheat an oven to 350 degrees Fahrenheit.
Step 4
Remove the chicken breasts from the marinade and place in a baking pan. Cover the pan tightly with foil and bake for 30 minutes, or until the chicken's juices run clear.
Step 5
Tip
If you would like breaded chicken, roll the marinated meat in plain instant mashed potatoes before baking.