Whether it's for fun, a costume or a chance to make shiny shorts, creating clothing out of duct tape can be rewarding. Duct tape is durable and highly adhesive, so there's no need for needle and thread. A simple roll of duct tape and skilled fingers should leave you with a unique article of clothing you could wear, frame or throw away once you're done. So grab your roll and get set to create your very own pair.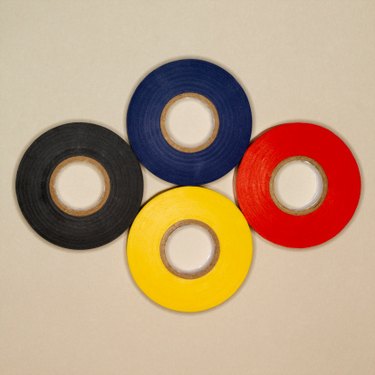 Things You'll Need
Scissors

Boxers

Shoelace

Duct Tape

Small Icepick
Step 1
Cut the boxers so that all that remains is the intact elastic waistband. Pull a strip of duct tape long enough to reach from the elastic waistband to your knee. Stick the tape to the elastic waistband, adhesive strip facing away from the skin.
Step 2
Repeat step one, overlapping each piece by a small amount until you reach the front and seat of the shorts, leave those areas uncovered. You should have two "sides" of the shorts, sticky side to the air.
Step 3
Use same length strip of duct tape and place from waistband to knee, this time carefully aligning the adhesive side of the tape to the adhesive tape already present. The two sticky sides will keep them together, without sticking to skin.
Step 4
Apply strips of duct tape carefully from front of the waistband, down between your legs and up again to the waistband in the back, sticky side out. Repeat with new strips, this time sticky side in. The crotch of the shorts should have a somewhat "V" shape to it. If the crotch area is becoming too thick from tape, consider using scissors to taper the duct tape pieces at the crotch.
Step 5
Apply another layer of duct tape to the shorts, this time horizontally. Use concentric circles from the waist to the seat of the crotch. From there, apply circles to each leg.
Step 6
Cut the waistband four inches down the front to create a "fly" opening. Puncture along the fly with a small icepick or similar tool. Five holes should be enough. Have the top holes be in the center of the duct-tape covered elastic waistband.
Step 7
Lace up the shorts with a shoelace and tie a bow to have shorts you can easily take on and off again.
Tip
Duct tape is rigid, so the elastic waistband might not be so elastic. The waistband was simply to hold the tape in place while you created your shorts.
Warning
Avoid duct tape on skin. It can cause irritation and even remove bits of skin if improperly used.