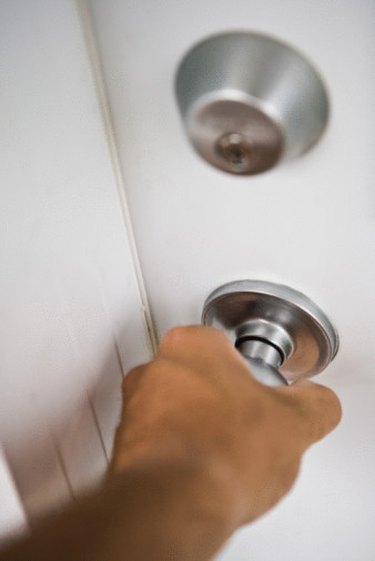 A Kwikset deadbolt lock can only be installed with the mounting screws on the inside, if it is to be secure. This can present confusion when it comes to using a lock for a door that is right-handed instead of left, or vice versa. Once you have realized your mistake, you will need to reverse the installation of the lock barrel, since the lock bolt installs the same way on either right- or left-hand doors. This technique will work with almost all modern deadbolts, regardless of brand.
Step 1
Remove the screws from the inside plate of the deadbolt, which may be installed on the outside. Look for the thumb toggle and find the screws at its base. Remove the two screws with a screwdriver and pull both halves of the lock barrel from the door. If you are reversing the lock installation on the same door, proceed to Step 4. If you are moving the lock, continue with the next step.
Step 2
Remove the two screws from the plate on the door's edge above and below the deadbolt latch, if you are moving the lock from a right- to left-hand door, or vice versa. Pull the lock out from the edge of the door. Insert the lock into the edge of the door that is bored for the deadbolt. Insert it into the hole the same way, whether it is a right- or left-hand-open door.
Step 3
Insert the two mounting screws you removed into the edge of the new door. Tighten them with the screwdriver.
Step 4
Position the barrel half of your lock with the thumb toggle and mounting screw holes on the inside of the door and the half with the key way on the exterior side of the door. Insert the two halves of the lock through the holes in the latch mechanism so that they fit together. Thread the two long mounting screws through the inside lock plate and tighten with a screwdriver.