Things You'll Need
1 to 2 crib sheets

Safety pins or diaper pins

Wide ribbon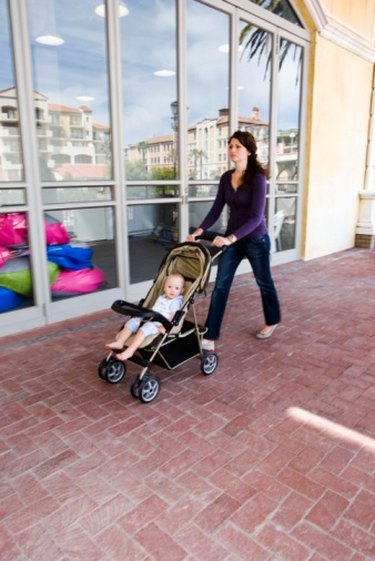 While a stroller is a popular and desirable gift for a loved one who is expecting a baby, the large package can result in a gift-wrapping struggle. Keep the stroller in the box both to ease wrapping woes and to avoid wasting time putting the item together in case the new mom and dad decide they prefer a different model or receive duplicate gifts. This method not only saves wasted time struggling with large sheets of wrapping paper, but also adds another useful element to your gift.
Step 1
Spread a crib sheet right side down on the floor.
Step 2
Lay the stroller box face down onto the crib sheet, pulling the elastic corners up and around the top corners of the box.
Step 3
Pull the crib sheet up and over the top side of the box. If sheet does not fully cover the box, place another crib sheet, right side out, onto the box and pull the elastic corners down over the bottom corners of the box, overlapping the first sheet.
Step 4
Insert diaper or safety pins through the edge of the sheet and then through either the edge of the second sheet or through the opposite edge of the first sheet if only using one. Close the pin. Add more pins as necessary to keep the edges of the sheets closed to cover the box.
Step 5
Wrap ribbon around the stroller box, covering the seam of the sheet edges for a tidy look. Tie ribbon into a bow.
Tip
Keep the sheets pulled tight around the box while pinning to avoid untidy, saggy wrapping.