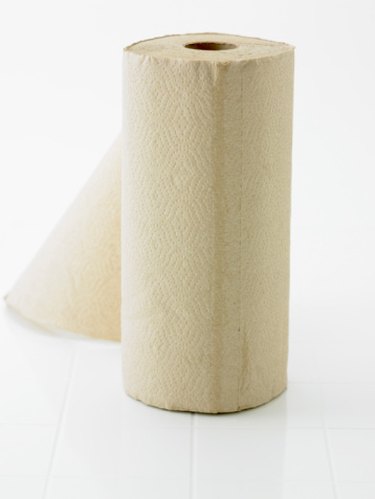 The art of folding paper towels and napkins is based in orignami, a Japense paper-folding art form that has been around for thousands of years.
Restaurant staff and dinner-party hosts will often use the art of origami to fold napkins or paper towels into decorative shapes, such as roses, swans, and hearts, for their guests.
Follow the directions below to make a paper towel heart that will add a finished touch to the table at your next dinner party.
Step 1
Lay one paper towel down on a flat service. Smooth it out to make sure it is completely flat.
Step 2
Fold the paper towel in half horizontally by taking the bottom two corners and folding them up to meet the top two corners. Repeat this one more time and your paper towel should now resemble a long rectangle. Fold the paper towel in half vertically and then unfold it so you now have a crease in the very center.
Step 3
Take the left side of the paper towel and bring it over and up at the center crease so it is now perpendicular to the right half of the paper towel. Repeat this step with the right half. Your paper towel should now resemble a house with a rectangular top and a triangular bottom pointing toward from you.
Step 4
Flip the paper towel over and fold the top corners of each of the rectangles inward.
Step 5
Flip the paper towel over onto the other side and press it flat. You now have a heart-shaped paper towel!