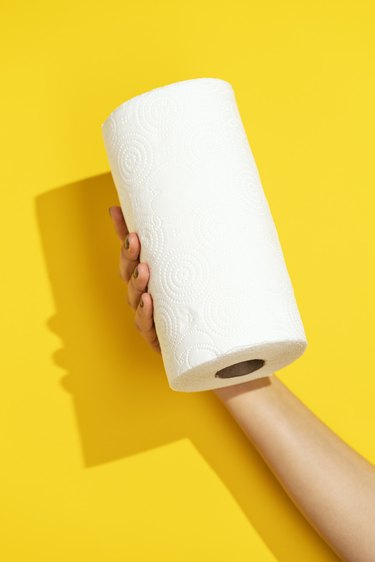 Whether for Valentine's Day dinner or to impress a special someone, folding a paper towel or napkin into the shape of a heart adds a romantic touch to a table setting. Paper towel origami is more straightforward than you might expect when you follow some simple instructions.
Paper Towel Origami: Heart-Shaped Folding
Origami is the ancient Japanese art of folding paper to resemble an animal or another real-life item. Even though it's more traditional to use actual paper, you can apply the principles to create beautiful, folded objects out of cloth or paper towels. You can fold paper towels to be fancy in just a few easy steps.
Take hold of the bottom corners of the paper towel, and fold the paper towel in half by matching those corners to the top two. Repeat this step another time so that your paper towel now resembles a long rectangle. Fold the rectangle in half vertically. Then, completely unfold the paper towel. You should see the creases from folding, including a crease in the very center of the paper towel.
Lay the paper towel flat and then take the left side and pull it up and over at the crease in the center so that the left side is perpendicular to the right half. Repeat this step with the right half. The paper towel should look like a crude, upside-down house with a triangle at the bottom and a rectangle at the top. Turn the paper towel over so that the bottom is facing up and then take the four corners of the rectangle and fold them inward. Turn the paper towel over again and flatten it using your palm. You now have a beautiful, heart-shaped paper towel to use on your table.
Other Paper Towel Folding Ideas
There are other ways to fold napkins using paper towel origami. If you're looking for other romantic paper towel folding ideas, there is a method that you can use to make a rose. Tear your paper towels so that you have a square shape. Fold the paper towel in half diagonally so that it's in the form of a triangle. Fold the triangle in half along the longest edge and repeat that step. Now, you have your rose leaves. Set this paper towel aside.
To form the flower petals, tear another square paper towel. Fold this one in half diagonally too and then turn the paper towel so that the longest side is at the top, furthest away from you. Take the point facing you and fold it up to extend above the longest side. The top and bottom edges should be parallel to each other.
Starting at one end (it doesn't matter which), roll the napkin in one direction. As you do so, be sure to guide it to roll evenly. It's time to combine the two paper towels to make your complete flower. Take the leaf piece and create space by slightly separating the top and bottom sections. Place the flower piece of paper towel between it and display it.
Other Ideas for a Beautiful Table
Besides folding napkins, there are many other ways to make your table setting more beautiful. There are many options for both formal and casual settings. You can step up your table preparations by using various table settings, different colors and unique materials.
Another option is to carefully plate food and use a garnish. If you make your meal look particularly delicious by plating correctly, your family and guests will be very impressed! Whole parsley or cilantro flakes on red or brown foods look appealing and appetizing.
Candles also add a romantic and elegant touch. Use plain tealights or taper candles and be sure they're unscented since scented candles can interfere with your taste pallet when you eat your meal.