When it comes to setting a gorgeous table, it's all about the details, and special touches like folding cloth napkins with rings make all the difference. Of course, you can just roll up cloth napkins and slide them into the rings, but what fun is that? Your guests will be way more impressed if you take the time to fold the napkins. There are numerous ways to fold napkins with or without rings, and you can use the different ways to show off your napkin-folding skills.
The rings are lovely because they hold the napkins securely and provide added visual interest. You can find all kinds of napkin rings, from basic monotone plastic ones to fancy-schmancy ones made from brass with little figurines on them.
How to Fold Cloth Napkins With Rings
Things You'll Need
Cloth napkins

Napkin rings
Step 1: Fold the Napkin in Half
This method is pretty straightforward. First, fold the napkin in half vertically to create a rectangle.
Step 2: Fold the Bottom Half of the Napkin Up
Fold from the bottom half upward and you will now have a small square.
Step 3: Turn the Napkin
Turn the napkin so there is a point at the top.
Step 4: Roll the Napkin From the Left
Firmly roll it from the left about halfway across.
Step 5: Roll the Napkin From the Right
Hold the left part and roll the right portion over to meet it.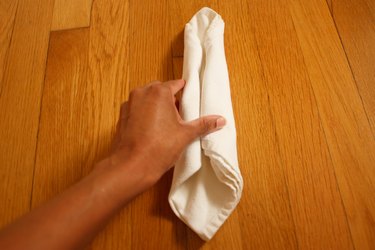 Step 6: Add a Napkin Ring
Slip on the napkin ring and you are finished.
Another napkin-folding technique is the leaf. First, place a square napkin on a flat surface in front of you, laying it down in a diamond shape with the points on the top, bottom and sides. Then, fold the bottom point up to meet the top. Run a finger from the straight bottom up to the top point to make an indentation. Then, bring the two side points to the top to create a smaller diamond. Pull the two top points down and press them out on the sides. Pull in the bottom third of the napkin; it should look like a budding flower. Place the napkin ring one-third of the way up and let the top part fan out gently.
Napkin-Folding Books and Guides
Without a doubt, napkin folding is an art, and it takes a bit of time to master it. The best way to learn how to fold napkins is to look at pictures that show how to do it and then practice. Whether online or in books, these guides will usually start with easy folds, like triangles and bows, and move on to more complex ones, like flowers, wheels and squares. Some people compare these more challenging folds to origami. You can even find designs for setting holiday tables, kids' parties and other special events.
Some napkin-folding books also include helpful information about setting and coordinating tables. They have suggestions for linens, utensils, plates and centerpieces. After all, once you become a napkin-folding expert, you will want the rest of your table to be just as nice for your guests.
Some of the best napkin-folding books include "The Simple Art of Napkin Folding" by Linda Hetzer, "Creative Napkins and Table Settings" by Jimmy Ng and "Perfect Table Settings" by Denise Vivaldo. You're sure to find even more ways of folding cloth napkins with rings plus a wealth of information to make your table settings look like they came out of a magazine.