Things You'll Need
Mixing bowl

Aluminum foil

Grill

Tomatoes

Potatoes

String cheese

Lettuce

Vegetable oil

Mayonnaise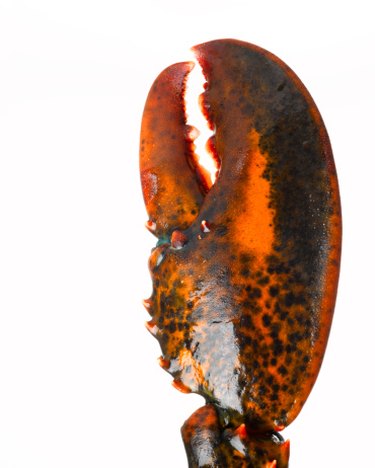 Frozen canned lobster is convenient and delicious; you can use it in a wide variety of dishes, even if you are in a hurry and don't have much time to spend in the kitchen. You don't need more than basic cooking skills, such as cutting or frying, in order to enjoy a simple yet delicious meal using frozen canned lobster.
Thawing the Frozen Canned Lobster
Step 1
Place the unopened can of frozen canned lobster in a bowl filled with room temperature water. Let it sit for two hours prior to opening. Do not use warm water.
Step 2
Open the can of lobster meat, and place contents in a microwave-safe bowl. You can choose to drain the lobster juice for later use in soups or rice dishes.
Step 3
Cover the bowl and microwave at medium temperature for one minute if you're planning to make salads or cold dishes.
Grilling the lobster
Step 1
Rinse the thawed lobster meat in cold water. Baste it all over with butter and sprinkle with some salt.
Step 2
Wrap the lobster meat in aluminum foil, making a flat, thick package. Place on the grill at low heat, and cook each side for seven minutes. You can increase or decrease cooking time depending on how well you want the lobster to be cooked. Remove from the grill once the time is up.
Step 3
Cut the potato in thin slices and fry in vegetable oil until brown.
Step 4
Slice the lobster meat and mix with the potatoes.
Lobster Salad
Step 1
Cut the meat into half inch squares, place in a closed container and microwave at medium temperature for one minute. Set aside.
Step 2
Dice the tomatoes and string cheese. Toss in a bowl with the lobster meat and lettuce.
Step 3
Mix in salt, pepper and mayonnaise to taste. Serve cold.
Warning
Remember to rinse the lobster meat carefully. Even if the process of industrially canning and freezing lobsters meets FDA regulations, you want to make sure you don't get food poisoning by exposing the unwashed product to much time at room temperature.