Things You'll Need
Powdered sugar

Milk

Sifter

Mixing bowl

Fork or spoon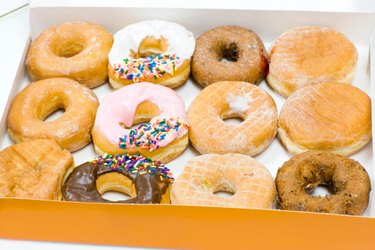 Sweet glaze takes a dessert or breakfast treat to the next level. Use glaze on cakes, cookies, sweet breads, pastries and doughnuts. Many variations of sugar glaze exist, but the most basic recipe requires only two ingredients and no cooking. Begin with the basic ingredients and modify the glaze to create the perfect complement for your baked goods.
Step 1
Measure out powdered sugar according to the amount of glaze you need. One cup of powdered sugar results in about 1/3 cup of glaze.
Step 2
Sift the powdered sugar into the mixing bowl.
Step 3
Add 1 tbsp. of milk per cup of powdered sugar to the mixing bowl. Stir with a fork or spoon until smooth.
Step 4
Add more milk, 1 tsp. at a time, until the glaze is the consistency you want.
Step 5
Drizzle or spread the glaze over your baked goods immediately.
Tip
Substitute cream, non-dairy milk or water for the milk, or use fruit juice for flavored glaze.
Add flavoring extract, spices or citrus zest for flavor. Start with 1/4 tsp. per cup of sugar and add more to taste.
Mix in 2 tsp. cocoa powder per cup of sugar for chocolate glaze.
For doughnut glaze, warm 2 tbsp. milk per cup of sugar in a saucepan, then whisk in the sugar and dip the doughnuts in the glaze.