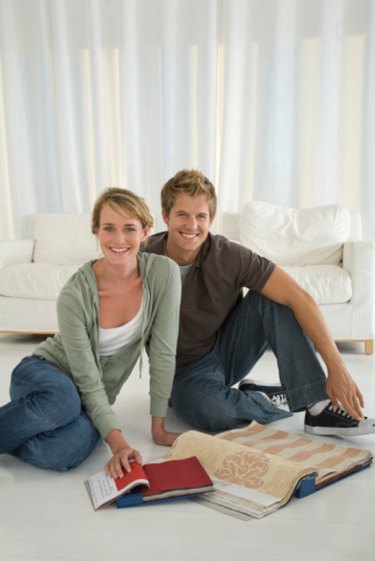 Furniture manufacturers and sewing notion companies often display fabric options in sample books. A binder or a series of o-rings join the collections together. Rings loop into metal eyelets that are positioned either in the corner of a large sample or on a reinforced paper sewn to the sample. Alternatively, some collections feature swatches glued to cards. Retailers eventually discard discontinued books or individual samples. The EPA reports 14.9% or 1.9 million tons of textiles were salvaged for repurposing or recycling in 2009. While these samples may seem insignificant in size, repurposing them through craft projects, by composting natural fibers or through remanufacturing reduces textile waste in landfills.
Preparation
Step 1
Remove large fabric swatches from binder sample books. Pry open the binder rings or press the spring lock. Lift fabric out of the book. Free the fabric from paper tags with a staple remover. The manufacturer may bind a paper tag to a sample. Either cut the paper away or use a seam ripper to break the stitches. A small, narrow pair of scissors can also snip individual threads, though the process may take more time.
Step 2
Repurpose the binder. Many fabric swatch binders exceed the size of standard letter stationery, but you can store art projects or long-form documents in them. Slip paperwork into plastic sleeves for extra protection.
Step 3
Cut around glued fabric to retain the paper backing. If you want to free it from the paper, place a towel over the fabric and apply light pressure from an iron. Set the iron to low heat. The glue will heat. Peel the fabric from the paper. Do not apply heat to petroleum-based fabrics such as acetate, generally found in clothing fabrics.
Step 4
Categorize the remnants by size and material. Large sizes will suit small sewing projects as is, while small swatches must be pieced together in order to make a finished project. Identify small-scale patterns that work in a 1:12 miniature scale if you intend to make doll house carpets and furnishings.
Projects
Step 1
Create a makeup bag or shaving kit with a large fabric sample. Set the fabric on a table with the inside facing down. Whip stitch the sides together. Peel and stick a piece of Velcro for a closure. Tie decorative ribbon through metal eyelets if the article is to be a gift.
Step 2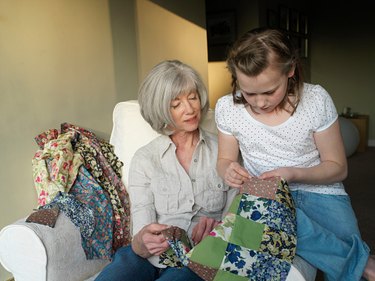 Assemble fabric scraps of various sizes and make a crazy quilt. Draw a sewing line an eighth of an inch from the edge of the fabric. Pin the pieces together, then flip the quilt over. Sew along the line, removing the pins as you go. You may choose to finish the quilt by backing it with a solid piece of new fabric, or an old sheet, sewing the edges together and finishing it with bias tape or fabric trim.
Step 3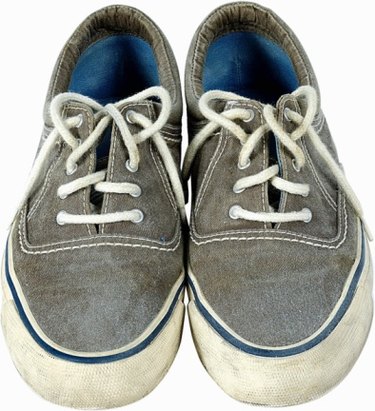 Affix small pieces of fabric to personalize canvas sneakers. Cover the eyelets with masking tape or painter's tape. Cut fabric samples into tiny pieces. Brush each piece with decoupage fluid and arrange them on the shoe with tweezers. Allow the shoes to dry overnight, then remove the tape.
Step 4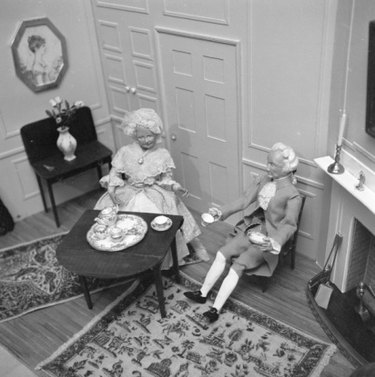 Imitate the look of pile carpets or an oriental rug in a dollhouse or recreate fabric wall art. Glue paper-backed samples with a large pattern directly to the wall of the dollhouse for instant wall art. Alternatively, create a wood-look frame with crafters' wooden sticks or small dowels. Trim the sticks to the correct size with metal snips or scissors. Glue the four frame sides together and hot glue them to the fabric or to edges of the paper backing.
Step 5
Save unused samples to stuff homemade toys. If the condition or size of the samples do not lend themselves to reuse after cutting, discard natural fibers to your compost pile. Silk, cotton and wool naturally decompose. Synthetic fabrics do not. Discard synthetic yarn and scraps into the trash. Alternatively, collect them and ask your local landfill site about textile reclaiming programs.