Things You'll Need
2 quarts cucumbers

Mixing bowl

Red onion

1 tbsp. canning salt

Plastic wrap

Colander

1 1/2 cups sugar

1/2 cup white or apple cider vinegar

1/2 tsp. mustard seed

Plastic storage container with an airtight lid or plastic freezer bags
You can't freeze a whole cucumber as its texture will become mushy, but you can prepare the vegetables for long-term storage by pickling them first. Transform extra cucumbers into crunchy pickles using vinegar and a few other basic ingredients. The cucumbers will pickle during the freezing process. Thaw the homemade pickles anytime to serve with hamburgers and sandwiches. When looking for cucumbers to freeze, choose fresh, crisp vegetables that aren't overripe for the best taste.
Step 1
Peel and thinly slice 2 quarts of fresh cucumbers. Place the slices in a mixing bowl.
Step 2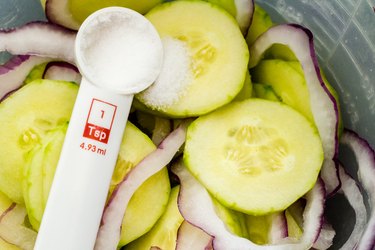 Cut a red onion into thin slices and place it in the bowl with the cucumbers. Add 1 tbsp. of canning salt.
Step 3
Cover the bowl with plastic wrap and allow the cucumbers to sit at room temperature for two hours. Drain the cucumbers in a colander over a sink.
Step 4
Mix 1 1/2 cups of sugar, 1/2 cup of white or apple cider vinegar and 1/2 tsp. of mustard seed together and pour it over the cucumbers. Transfer the mixture into a plastic storage container with an airtight lid or durable plastic freezer bags featuring zip closures.
Step 5
Place the cucumbers in a freezer; they will pickle and be ready to enjoy within four days. Store the pickled cucumbers in the freezer for up to one year.