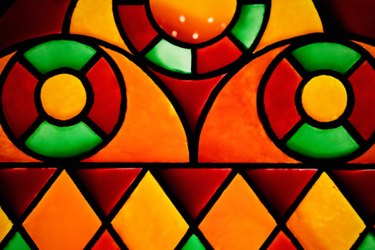 Hanging a stained glass window is not the same thing as installing a stained glass window. When hanging a stained glass window, instead of installing the panel into a wall, the window may be left there permanently or it may later be taken down. The stained glass window will be hung by either a wooden frame or a metal frame attached to the glass of the window.
Step 1
Attach two large hooks to the framework of the window that the stained glass window will be hung over. Use hooks that must be drilled into the wall for the best support. The hooks may be placed directly above the window or they may be placed so that the wire or chain will be in a slanted position to avoid interference with shutters or other items that are already installed around the window. Place one hook at each of the two top corners of the stained glass window. Additional hooks may be placed if more support is needed.
Step 2
Attach wire or chains to the two top corners of the stained glass window's frame. If additional hooks were installed, then also attach the additional wires or chains in the appropriate positions. If wire is being used instead of chains, then use very stout copper wire with a diameter of 14 gauge to prevent breaking.
Step 3
Hang the stained glass window in front of the original window by attaching the wires or chains to the hooks. The stained glass window does not have to be the same size as the window that it is being hung over. It can be much smaller and hung at the center of the larger window or it can be larger and hung over top of the smaller window.
Tip
To avoid splintering the frame, drill a pilot hole into the wood where the hooks are going to be placed. Make sure the diameters of the hooks are larger than the drilled pilot holes.