Things You'll Need
Soap

Heavy-duty hand cleaner

Toothpaste

Brush

Paper towels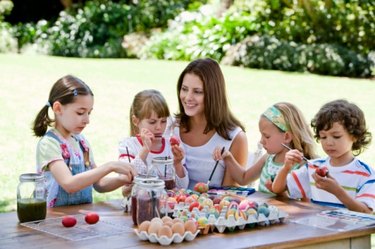 Dyeing and creating custom Easter eggs just in time for the holiday is a fun way to spend time as a family and get creative. Decorating Easter eggs is sometimes a messy activity, leaving egg dye stains on clothing and sometimes your hands and other parts of your body. Removing egg dye from your fingers is simple using household products or special soap.
Step 1
Soak your hands in warm water and soap, and attempt to scrub off the Easter egg dye before trying additional methods to remove the dye.
Step 2
Purchase a soap specifically created to remove material such as Easter egg dye from hands. A heavy-duty hand cleaner is a powerful agent for removing Easter egg dye because it contains pumice for easier scrubbing along with moisturizers to keep skin healthy and smooth.
Step 3
Apply toothpaste to your hands and fingers using a paintbrush, a nail polish brush, or your hand. Rub the toothpaste into your skin, scrubbing back and forth with your hand or a brush to remove the Easter egg dye.
Step 4
Rinse off the toothpaste and wipe your hands with paper towels, removing any excess toothpaste or wet Easter egg dye.
Step 5
Wash your hands with soap again and repeat the process with toothpaste if necessary until the Easter egg dye is removed from your fingers.