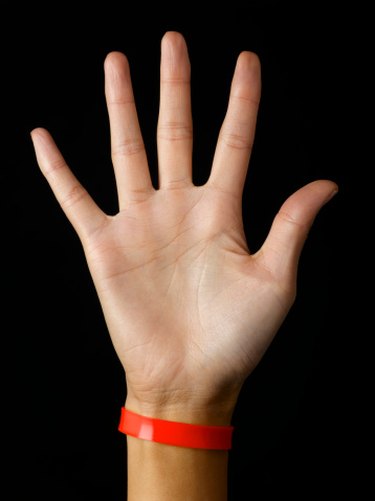 Bars, clubs and some parties use wristbands to show who has paid for entrance. With people heading in and out of events, a wristband makes it easy for staff to know who should be there and who shouldn't. There are two main types of wristband: the paper and the plastic type. The former is weaker and easier to take off, and the latter is stronger. Assuming you cannot slip the wristband over your hand, you will need to try another tactic. Although it is not tricky to take off a wristband, there is a correct procedure that prevents any unnecessary injury or strain.
Paper Wristbands
Step 1
Place your fingers inside the wristband until you feel a loose tab.
Step 2
Pull the tab sharply to separate the overlapping sections.
Step 3
Pull until the wristband is off your arm. You will be able to re-attach the wristband, using some of the residual glue if you so desire.
Plastic Wristbands
Step 1
Slide a pair of scissors carefully around the wristband, taking care not to cut your wrist.
Step 2
Snip the wristband until you have cut all the way through it. Again, take care not to cut yourself.
Step 3
Remove the wristband from your wrist. Use tape to re-attach it to your wrist if necessary.