Things You'll Need
Flat head screwdriver

Cotton swabs

Scissors

Glass bowl

Diffuser base

Fragrance oil

Measuring spoons

Metal spoon

Small funnel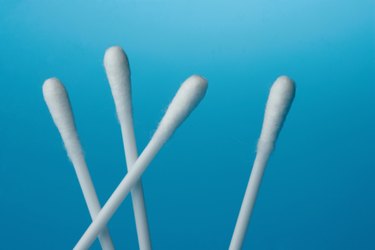 Glade scented oil refill containers are available in several fragrances. Bottles are sold individually or in multi-packs. Save money and reuse the containers after the initial fragrance is gone with another fragrance with minimal effort. The proper oil to refill the containers is either a simmer oil or a diffuser base and fragrance oil mix. The most difficult part of the process is removing the lid from the scented oil container. Customize the fragrance by mixing several fragrances together to create an individualized scent.
Step 1
Pry the top off the empty Glade scented oil refill container. Place the flat edge of a flat edge screwdriver under the lip of the lid. Gently pry the lid off the container.
Step 2
Remove the used wick from the lid. Place two cotton swabs through the hole on the lid until the end of the cotton swab is flush with the top edge of the lid.
Step 3
Insert the opposite end of the cotton swabs into the empty bottle. Look at the distance between the lid and the bottle. Cut the appropriate amount of cotton swab from the protruding end so the bottom of the swab rests on the bottom of the bottle when the lid is closed. Depending on the brand of cotton swab, 1/8 to 3/4-inch should be cut from the bottom of the swab to achieve a proper fit.
Step 4
Measure and pour 1 tbsp. of diffuser base to 3 tbsp. of fragrance oil in a glass bowl. Stir the mixture with a metal spoon.
Step 5
Insert a small funnel in the opening of the Glade scented oil container. Pour the fragrance oil mixture into the bottle. Stop pouring when the mixture is level with the neck of the bottle.
Step 6
Insert the cut ends of the cotton swabs into the bottle. Snap the lid on the container.
Tip
Mix a large batch of scented diffuser oil for the Glade scented oil containers and store in an airtight glass container. Make sure to use one part diffuser base to three parts fragrance oil.