Things You'll Need
Tape measure or straightedge

Shadowbox

Sawtooth picture hanger (optional)

Artist's tape

Stud finder

Hanging nail or screw

Hammer or drill

Level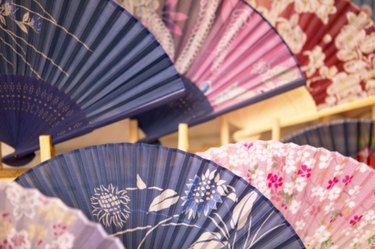 Whether it hand-painted by you or is a classical treasure from the Far East, display your ornamental folding fan on the wall to provide your home with a decoration that is a refreshing departure from typical, framed artwork. Place your fan in a shadow box for mounting it to the wall, thus eliminating the need to puncture holes in or use tape on the fan. A shadowbox frames and protects the fan from potential external threats, such as the sun or kids with oily or dirty hands.
Step 1
Measure the width and height of the fan when it is fully open. Add 2 to 4 inches to each measurement to determine the shadow box width and height.
Step 2
Purchase a shadow box with the determined dimensions from a framing shop. Purchase your shadow box with fabric lining, or add fabric on your own using fabric glue. Another option is to paint the inside of the shadow box. Purchase a box with UV-filtering glazing to prevent sun damage.
Step 3
Nail a saw tooth picture hanger to the top center of the back of the shadow box, if it is not already equipped with a picture hanger.
Step 4
Place the fan in the box. Secure the back of the fan to the shadowbox backing at just a few, evenly-spaced points, using acid-free, archival, low-tack or removable artist's tape.
Step 5
Scan the wall at the desired hanging spot with a stud finder to locate the nearest wall stud. Drive the hanging nail or screw into the stud for secure mounting. If a stud is unavailable in the exact hanging location, drill a pilot hole in the drywall, insert a wall anchor into the hole and drive the hanging screw into the anchor.
Step 6
Hang the shadow box on the wall. Place a level on the top edge and adjust for evenness.