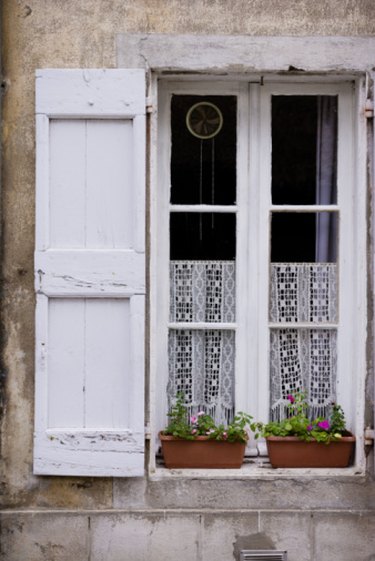 Shutters, though nowadays they don't usually serve any useful function, complement the exterior windows on a house greatly. Depending on the color scheme of your home, there are numerous colors to choose from when it comes to shutters. The right color is waiting amidst the many different colors available, and by spending a little effort and time, you can find it.
Step 1
Choose a color that matches the current accent colors on your home. Major accent colors include those used on the exterior door(s), the gutters and sometimes the window trim. Homes with matching accent colors will often stand out from the rest of the neighborhood due to the tidy, clean look they promote.
Step 2
Find a color that complements the color of the siding on your home. Some colors will match with each other, and some will conflict. This is all up to your personal taste, but usually a color that is a couple of shades darker or lighter than the siding color will look best. As an example, try using brown shutters with a tan house, gray shutters with a white house or yellow-green shutters with a green house.
Step 3
Look for a color that goes well with the color of your roof. This is less noticeable at first than the accent and siding colors, but a roof that doesn't match the colors on the rest of the house might look a little strange if someone looks at it closely. Ideally, the roof should be somewhat close to the accent colors, but again, your personal taste plays a huge role here.
Step 4
Take a picture of your home with you when you go to look at shutter colors. With the picture in hand, look back and forth between your house and the shutters, and visualize what the shutters would look like in place. This will help immensely in finding the right shutter color for your house.